REVIEWS
THE AURORA ENSEMBLE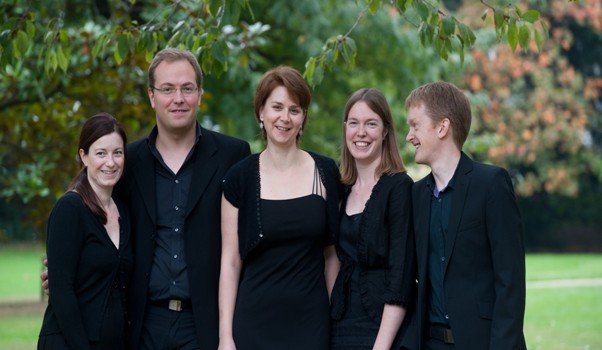 Wednesday 11th February 2015
Ibert – Trois pièces brèves
James Macmillan – Untold
Nielsen – Quintet in A op. 43
Ligeti – Six Bagatelles
Danzi – Quintet in G minor, Op.56, No.2
Walton arr.Mason – Façade Suite
REVIEW BY DAVID PYETT
An ideal programme for a winter's evening
It was immediately apparent that these fine players at Ilkley Concert Club were very good indeed and the programme they chose was ideal for a winter's evening. The "Trois Pièces Brèves" by Ibert which opened the programme was sparkling, witty, and showed the ability of the players to deal with a true 'Allegro scherzando', whilst also providing a lovely flute solo by Maxine Willis.
Read More
James MacMillan's 'Untold' was a complete change being closely based on an Irish Folk Song and introducing the darker tones of a Cor Anglais beautifully played by the group's oboe, Gwenllian Davies.
Carl Nielsen's Op.43 is, in the opinion of many, the finest wind quintet written and the performance we heard was certainly the finest live performance this reviewer has heard. Written to accommodate the personalities of five friends the music 'overhears' their discussions and thoughts. With Andrew Mason,(Clarinet), Helen Shillito, (Horn), and Shelly Organ, (superb as a bassoonist wanting the last word) the quintet gave us a quite exceptional performance, one to remain long in memory for its clarity and characterisation of the 'friends'.
György Ligeti's 'Six Bagatelles' were, the group assured us, "quite short" but they need not have worried about the reception it received.
As a departure from nearly always starting concerts with the earliest piece, Franz Danzi's 'Wind Quintet Op.56/2' took us back to an earlier age when the idea of five solo wind players making a satisfactory group for composers was relatively new. With some more beautiful solo parts for individuals, it would be invidious to highlight any particular ones – it was a delightful work delightfully played.
The Clarinettist, Andrew Mason, had made a most unusual arrangement of three pieces from William Walton's 'Facade'. As well as reducing the instrumentation he had the players also reciting Edith Sitwell's poetry in between getting all their notes in! Very effective and much applauded, this gave a splendid finish to another very successful concert.
David Pyett
Show Less
RECOMMENDED RECORDINGS BY RAYMOND WAUD
Ibert and Ligeti
The best way to obtain these two items is via a budget 2 disc set from the group "Les Vents Français" on Warner Classics 2564 63484-5. The first CD is of French Wind Quintets, and the second of 20th. Century Wind Quintets. The recording quality and performances are excellent.
Read More
James Macmillan I can find no trace of a commercial recording.
Nielsen
The Diamant Ensemble and Trio Ondine, on a superbly recorded full price disc from DaCapo 8226064, play Nielsen Chamber Music. The Wind Quintet is accompanied by the Piano Trio, Serenata in Vano, and other small chamber works. A good budget alternative is on Naxos 8.553050, performed by the Oslo Wind Ensemble who also play pieces by Fernström and Kvandal.
Danzi
A very well-recorded budget Naxos disc (8.553076) has the Michael Thompson Wind Quintet performing all three Op.56 Quintets, and the Sextet in E flat.
Walton
A CD entitled "Humoreske", played by the Aurora Ensemble, has the Walton "Popular Song" arrangement from "Façade", and is available via the internet from www.auroraensemble.com.
Raymond Waud.
Show Less