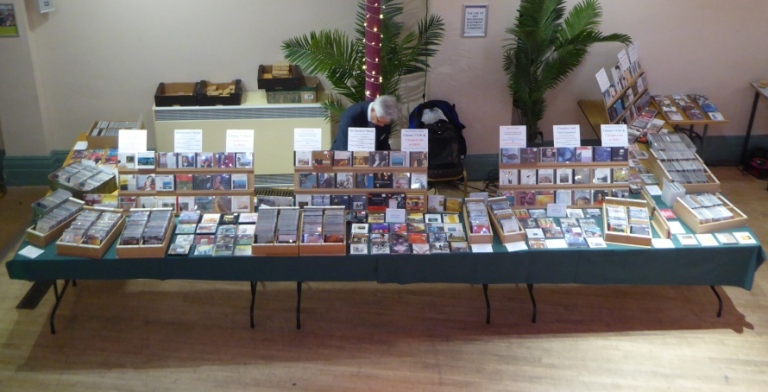 A
WE HAVE NOW RAISED
£12,881
Thank you everyone
We ended the 12th Season of our CD Stall with a running total of £11,733 raised to date. The secret of this ongoing sucess remains two-fold: (1) the fantastic response to our appeals for CD donations and (2) Our loyal band of enthusiastic purchasers for whom the CD Stall is an essential part of their evening.
We have maintained our 3 for 2 Offer throughout this Season and even added a 'Special Sale' at the April concert.
The new season started encouragingly and there was a flush of new donations at the first concert. At the November concert our running total passed £12,000. However, relatively speaking, things  then quietened down with few new donations. So! AN APPEAL for more new donations was launched in the March concert programme and – what a response!   Last week (April concert) we received over 450 'new to us' CDs during the evening with a number of promises of more to come. Not only that but what a superb and interesting collection of CDs they are! So! Visit us in May when lots of these 'new-to-us' CDs will be available.
Remember that our REFURBISHED CD STALL now provides much improved searching.
For newcomers – since October 2004, members have generously donated their surplus/unwanted CDs and DVDs (and have even scrounged from family and friends!!). These have been re-sold on concert evenings with all proceeds going directly into the Club's Piano Fund. Many people make a visit to the CD stall an essential part of their evening, so please don't miss out. You will find the stall on the ground floor in the Winter Gardens, at the right hand side of the stairs up to the balcony. We are open from shortly after 7 pm before the concert and throughout the interval.
The success of the stall depends entirely on the generosity of both donors and 'customers' – so please keep the CDs and DVDs coming in and please visit the stall on concert evenings. If you have a number of CDs or DVDs to donate and would like to have them collected, please contact Tony Hudson on 01943 430798 or email at hudson23@blueyonder.co.uk.
The success of this venture is apparent from the results, which are updated after each concert.