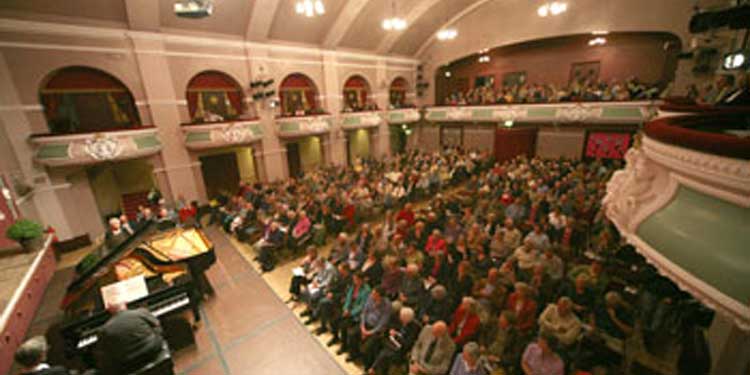 "The combination of beautiful piano, a hall with good acoustics and above all a large, loyal, attentive and enthusiastic audience, makes Ilkley Concert Club a very special place to play."
Steven Osborne, Pianist 2010
The origins can be traced back to 8 March 1942 when Cyril Smith gave the first of 31 concerts that were held from 1942 to 1946 (with a stunning array of artists). These concerts culminated in the formation of the Ilkley Concert Club at an open meeting held in the Ilkley Playhouse on 8 April 1946 and the first concert was given by Denis Matthews on the 28 August 1946 …..and the rest is history!!!!!
Is this how you measure success?!!
This year is our 75th Season.  Pre Covid we had 37 consecutive years when Ilkley Concert Club sold all available season tickets to subscribers – an amazing achievement reflecting huge credit on our President, David Pyett who sadly died in 2021.
The club is vibrant as every year about 5-10% of subscribers join as new members for the season.
We also have a tradition of Concert Club Members letting us know if they cannot attend a concert so that their tickets can be made available for re-sale.  So even if you are not a season ticket holder seats have always been available for individual concerts.
"With the excellent acoustics of the King's Hall, a superb piano and a large audience of real and devoted music-lovers the Ilkley Concert Club has always been one of my favourite music clubs to play for. The rare concentration one senses has always inspired me to give of my best."
Martin Roscoe, Pianist 2011