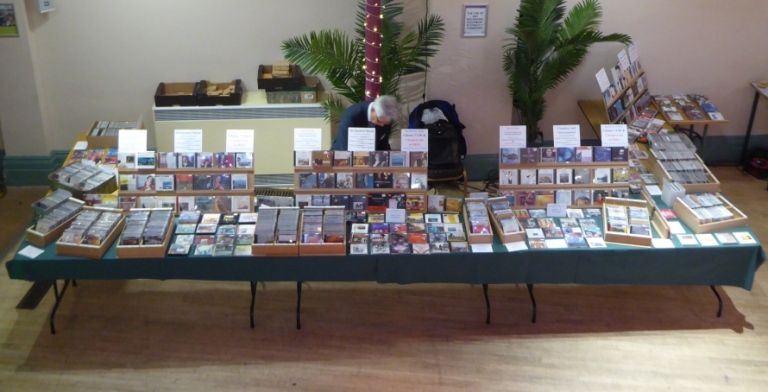 A
WE HAVE NOW RAISED
£15,361
Thank you everyone
The full 14th Season of our CD Stall raised £1,533  taking our running total to £14,414.   The secret of this ongoing success remains two-fold: (1) the fantastic response to our appeals for CD donations and (2) Our loyal band of enthusiastic purchasers for whom a visit to the CD Stall is an essential part of their evening.
The new season has started very well with £947 raised at our first four concerts, including £267 at our special Christmas/Black Friday sale at the December concert.
Donations prior to and during the 14th season were so good that we were able to introduce 'new-to-us' CDs at the rate of at least 120 CDs per concert throughout that season. We have enough 'new-to-us' CDs to allow us to keep this up at each of the next three concerts , but please keep the donations flowing in because we do need them to enable this to continue to our last concert of the season
Remember that our CD STALL now provides much improved searching – but, if you cannot find what you want, please ask because we can often help you find just what you want.
For newcomers – since October 2004, members have generously donated their surplus/unwanted CDs and DVDs (and have even scrounged from family and friends!!). These have been re-sold on concert evenings with all proceeds going directly into the Club's Piano Fund. Many people make a visit to the CD stall an essential part of their evening, so please don't miss out. You will find the stall on the ground floor in the Winter Gardens, at the right hand side of the stairs up to the balcony. We are open from shortly after 7 pm before the concert and throughout the interval.
The success of the stall depends entirely on the generosity of both donors and 'customers' – so please keep the CDs and DVDs coming in and please visit the stall on concert evenings. If you have a number of CDs or DVDs to donate and would like to have them collected, please contact Tony Hudson on 01943 430798 or email at hudson23@blueyonder.co.uk.