REVIEWS
CRAIG OGDEN – Guitar and CARDUCCI QUARTET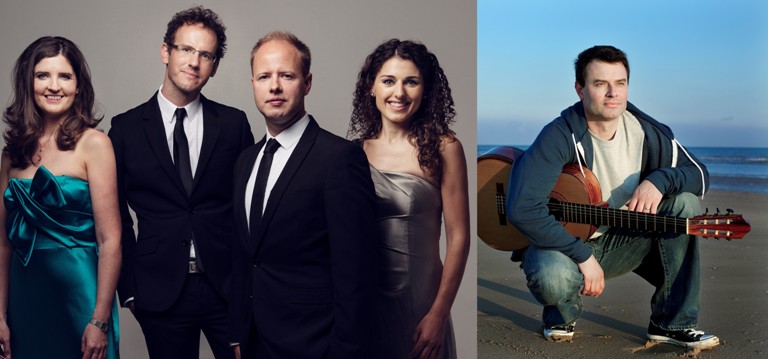 Wednesday 13th April 2016
Boccherini  – Quintet for guitar in D major. No.4 'Fandango'
Mozart – String Quartet in Bb major, K458 'The Hunt'
Castelnuovo-Tedesco – Quintet for guitar, Op.143
and Guitar solos
Craig Ogden was born in Australia but has been based in UK since 1990. He is considered one of the world's finest classical guitarists: in December 2004, he was honoured by the RNCM with a Fellowship in recognition of his achievements.

The Anglo-Irish Carducci Quartet is recognised as one of today's most successful string quartets. As international competition winners, their playing combines 'high octane playing with devil-may-care spontaneity'.

The collaboration of Craig and the Carducci enables us to hear two guitar quintets, of which that by Castelnuovo-Tedesco is both tuneful and charming – and a first for Ilkley! The evening also features Craig in guitar solos and the Carducci in the fourth of Mozart's string quartets dedicated to Haydn.
REVIEW BY GEOFFREY KINDER
Spring in the Air at the Ilkley Concert Club
If the weather was not ideally spring-like, the concert was full of vernal promise, both in the programme and its playing. The fourth Boccherini Guitar Quintet is famous for its lively Fandango finale and this was played with folksy abandon, cellist Emma Denton doubling expertly on castanets. The composer was himself a virtuoso cellist and the many high-wire challenges he presented her with were enthusiastically overcome, guitarist Craig Ogden equally relishing his contribution.
Read More
Craig left the stage for the Quartet to play Mozart's 'Hunt' Quartet. This was played con amore, but using a surprisingly wide dynamic range, no effete chocolate-box Mozart here. The composer was a viola-player and wrote lovingly for the instrument; violist Eion Schmidt-Martin made the most of his part as did violinist Matthew Denton whose beautiful tone and fine musicianship led the ensemble.
Then came Craig's solo spot. He talked engagingly about the pitfalls for non-guitarists such as Walton of writing for his instrument and then gave a marvellous performance of the typically characterful and lively-minded Five Bagatelles to show how brilliantly the composer had responded to the challenge. For this he sat front-stage, his un-plugged sound projecting fully.
Joined by the quartet he returned to his position at the rear, and now using discreet amplification could make a full contribution to the ensemble, something visiting harpsichordists could well emulate! The Guitar Quintet written in 1950 by American émigré composer Castelnuovo-Tedesco is not regular repertoire and the quartet had to learn it specially for this concert. This 'modern-music-without-tears' deserves to be better known and these players' advocacy should surely aid the process. It's beautifully crafted, all five players sharing the limelight, giving second violin Michelle Fleming a chance to shine. The unexpected vociferous audience response elicited a hastily contrived Fandango encore.
Finally, spare a thought for the pressured lives these young players lead. I encountered the cellist after the concert; off to her car for a four-hour drive home and the school-run in the morning. Such resilience!
G.K.
Show Less
RECOMMENDED RECORDINGS BY RAYMOND WAUD
Boccherini
Pepe Romero (guitar) and the Academy of St. Martin in the Fields Chamber Ensemble perform 8 Boccherini Guitar Quintets, including "Fandango" and "La Retirata di Madrid", on a well recorded Decca 2 disc budget set (438 769-2). Should you prefer the work on "period" instruments, there is a very cheap Brilliant Classics 2 disc set of 7 Guitar Quintets with Eros Roselli (guitar) and La Magnifica Communità (92892). The recording dates from 2005 and the sound quality is good.
Read More
Mozart
The excellent Jerusalem Quartet, with a fine sounding recording, made in 2010 of 3 Mozart Quartets, K.458, K.157 and K.589, are on a full price Harmonia Mundi CD (HMC 902076). As a budget alternative, on Apex 0927 40828 2, the Alban Berg Quartet play K.458 "Hunt" and K.465 "Dissonance". The late analogue recording sounds fine.
Castelnuovo-Tedesco
A full price Praga Digital SACD (PRD/DSD 290295) entitled "Spain Through Strings" has Miriam Rodriguez Brüllova (guitar) with the Zemlinsky Quartet performing the Quintet. Works by Arriaga, Torina and Toldá complete the disc, which is playable on all CD and SACD players. Those with access to the internet should be able to find the deleted RCA CD (RD 60421), featuring Kazuhito Yamashita (guitar) with the Tokyo String Quartet, at a much reduced price. The disc, with excellent performances, has this Quintet and the Boccherini Guitar Quintet included..
Raymond Waud.
Show Less