ILKLEY CHAMBER MUSIC ONLINE
MICHAEL COLLINS clarinet with
MICHAEL McHALE piano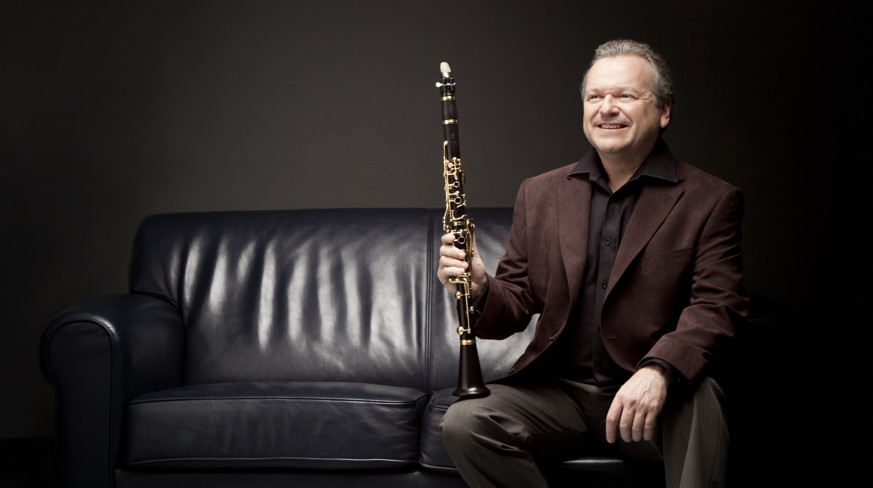 Wednesday 24th March – Tuesday 30th March
a
Reinecke Introduzione ed allegro appassionato, op 256
Stanford Clarinet Sonata, op 129 (Starts 9:30)
Brahms Clarinet Sonata in F minor, op 120 no. 1 (Starts 29:30)
Interval – James Jolly in Conversation with Michael Collins (Starts 53:00)
Debussy Première rapsodie (Starts 1:16:30)
Betinis Rhapsodos (Starts 1:25:30)
Franck Sonata in A (arr. for clarinet and piano) (Starts 1:37:30)
We are investing in these recordings as a means of continuing to support artists through these challenging financial times. If you wish to add your support please donate (say £5 per person viewing), via either of the donation buttons below – a new window will open
PROGRAMME NOTES – © C.N.Lane and A.Keith
Music for clarinet and piano
Tonight's programme admirably demonstrates the wide range and versatility of  the clarinet in works from the nineteenth to the twenty-first centuries.
The clarinet's important solo repertoire began with Mozart: his Concerto for Clarinet K622 in particular inspired Weber, who also wrote fine clarinet concertos (op 73 and op 74). These concertos were also influential and were admired by  Brahms. Many notable nineteenth and twentieth century composers were attracted to the clarinet as a solo instrument and it also became widely used in jazz and popular music, Gershwin famously and evocatively using the clarinet's distinctive timbre to open 'Rhapsody in Blue'.
CARL REINECKE (1824-1910) – Introduzione ed allegro appassionato, op 256

CHARLES VILLIERS STANFORD (1833-1897) – Clarinet Sonata, op 129
JOHANNES BRAHMS (1833-1897) – Clarinet Sonata in F minor, op 120 no. 1
CLAUDE DEBUSSY (1862–1918) – Première rapsodie
ABBIE BETINIS (b. 1980) – Rhapsodos
CÉSAR FRANCK (1822-1890) – Sonata in A (arr. for clarinet and piano)
MICHAEL COLLINS AND MICHAEL McHALE – © S Warnes
Michael Collins and Michael McHale last performed for us at King's Hall in December 2015. In that wonderful recital Michael Collins confirmed to us that he is a brilliant exponent of the clarinet. His dazzling virtuosity and sensitive musicianship have earned him recognition as one of the most complete musicians of his generation and one of today's most distinguished artists.
Michael Collins
Read More
His illustrious career was foreseen when, at the age of 16, Michael won the first ever BBC Young Musician of the Year Competition. Later, as a student at the Royal College of Music, he was asked to leave at the end of the second year because he had joined the Nash Ensemble and the London Sinfonietta and was already touring with them. But shortly afterwards he was asked to return as a teacher!
At the age of 22 Michael made his US debut at New York's Carnegie Hall and since then has performed with many of the world's most significant orchestras. He has the distinction of being the most frequently invited wind soloist to the BBC Proms.
As a chamber musician Michael has collaborated with many distinguished musicians including the Belcea, Takács and Endellion String Quartets, pianists Martha Argerich, Stephen Hough, Mikhail Pletnev, Steven Isserlis, András Schiff and Piers Lane and violinist Joshua Bell. His own ensemble, London Winds, which would have been playing for us as part of our 75th season, celebrated its 30th anniversary in 2018. This group has had many high calibre engagements such as BBC Proms, the Edinburgh, Cheltenham and City of London festivals and the Bath Mozartfest.
Michael Collins has given premières of works such as John Adams Gnarly Buttons, Elliot Carter's Clarinet Concerto, Brett Dean's Ariel's Music and Turnage's Riffs and Refrains. In 2007 he received the Royal Philharmonic Society's Instrumentalist of the Year Award in recognition of his pivotal role in premièring repertoire by some of today's most highly regarded composers.
In recent years Michael has become increasingly highly regarded as a conductor. He was Principal Conductor of the London Sinfonia from 2010-2018 and is Artistic Director of the London Mozart Players. Recent guest conducting and play-directing highlights have included engagements with the Melbourne Symphony, BBCSO and Zurich Chamber Orchestras. When asked in interview about this unexpected addition to his CV, he explained that in his experience, concertos are short-changed on rehearsal time. Most conductors want to spend more time on the symphony and often the concerto soloist is only given a quick run through, with no time to sort out phrasing, style and interplay. Despite the obvious difficulties of holding a clarinet while conducting, he feels he achieves a more intimate connection with the orchestra and that players feel more involved.
Michael constantly receives the highest critical acclaim for his prolific recordings on Deutsche Grammophon, Decca, EMI, Sony and Chandos. He has released 7 CDs with pianist Michael McHale with whom he has performed at Wigmore Hall during Lockdown last year.
Michael's diary was completely wiped out in March 2020 but he gave a Wigmore Hall streamed concert with Michael McHale in June and since then has given several more Wigmore Hall performances. He has been recording and in October was able to perform in Sweden. His diary is finally getting back to normal after a very tough year.
In January of this year Michael presented the debut performance of Wigmore Soloists, a new Associate Ensemble funded by Wigmore Hall. Led by Michael and violinist Isabelle van Keulen, Wigmore Soloists will see leading instrumentalists coming together to perform a wide range of chamber music repertoire from duets to works for up to 10 musicians.
Show Less
Michael McHale
Read More
Michael was born in Belfast and is one of Ireland's leading pianists. He has a busy international career as a solo recitalist, concerto soloist and chamber musician. From the age of 13 he attended the Royal Irish Academy of Music in Dublin. He would finish school in Belfast on Friday afternoon and travel straight to Dublin by train. Later, while studying at Cambridge University the commuting continued with a weekly train ride to London to attend lessons with Christopher Elton at the Royal Academy of Music in London.
Back in Ireland with a Double First in music, Michael won the Camerata Ireland Musician of the Year Competition and subsequently performed Mozart's Double Concerto with Barry Douglas several times. It was on Barry's invitation that Michael performed with the Hallé Orchestra as part of the Manchester Piano 2006 Festival.  As a soloist Michael has also performed with the Bournemouth, Minnesota and Moscow Symphony Orchestras, the City of London Sinfonia, London Mozart Players and all 5 major Irish Orchestras.
Michael has developed a busy international career as solo recitalist, concerto soloist and chamber musician. He has appeared at the Chopiniana, Tanglewood and Tokyo Spring Festivals, Wigmore Hall, Berlin Konzerthaus, Lincoln Center New York, Symphony Hall Boston and Pesti Vigadóin Budapest. He collaborates regularly with Sir James Galway, soprano Patricia Rozario, Dame Felicity Lott and Camerata Pacifica.
The Irish Piano, Michaels first solo album released in 2012, was selected by Norman Lebrecht as the CD of the Week. He now has a discography of over 20 albums. This includes 7 duo recitals on Chandos with Michael Collins.
Michael wrote the following about his Lockdown year in the Irish Times: In mid-March I was halfway through a long USA tour, and was lucky enough to get a last-minute flight home from New York before everything shut down. My teaching at the Cork School of Music immediately went online, and after a long break, I was finally able to make some recordings and give some live BBC radio broadcasts in London and Belfast. (It's a surreal experience playing in an empty concert hall!) Whilst we have all really missed playing to live audiences, many musicians have already been forced to sell their instruments and seek other employment-so let's hope for some encouraging news in 2021 to help bring live music back around the world.
Show Less
RECOMMENDED RECORDINGS – R Waud
This concert is as much about the clarinet Soloist as the content, and I propose to recommend Michael Collins' recordings, where available, with one or two alternatives of the main works. All the Chandos discs are at full price, and the pianist is Michael McHale.
Reinecke & Brahms:  CHAN 10844. Includes Brahms' Clarinet Sonata No.2 and Reinecke's transcribed Flute Sonata.
Stanford:  CHAN 10704. Includes pieces by Ireland, Bax, Bliss, and Howells.
Debussy:  CHAN 10804. Plus pieces by Widor, Bernstein, Martinu, etc.
Franck:  CHAN 20147. Includes pieces by Debussy, Kreisler, Gaubert, etc.
A very good alternative for the Brahms, also containing the Clarinet Sonata No., 2, etc. comes from Naxos 8.553121 at medium price with Kalman Berkes (clarinet) and Jenó Jandó (piano).  Another Naxos disc (8.570416) has fine performances of the Stanford Sonata and his Piano Trio from Robert Plane (clarinet) and the Gould Piano Trio.