ILKLEY CHAMBER MUSIC ONLINE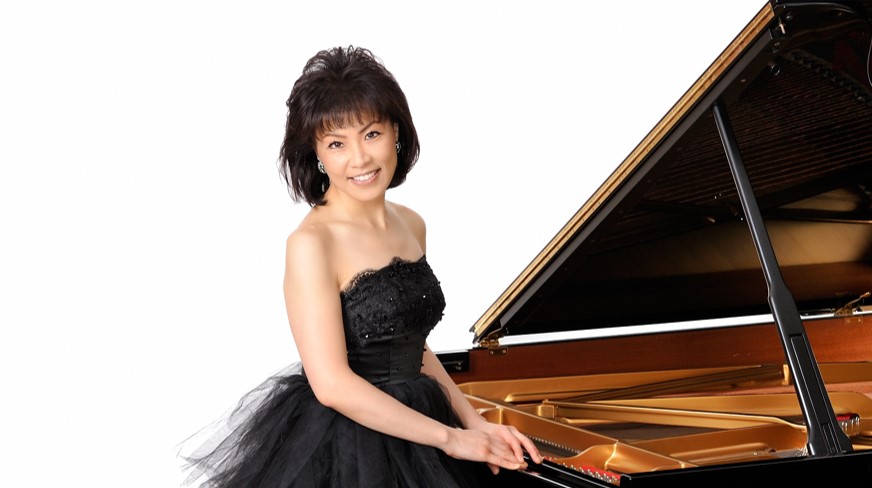 Wednesday 31st March – Tuesday 6th April
a
Rachmaninov (arr. Ogawa) Vocalise
Rachmaninov Preludes, op 23 nos 1, 4, 5, 6 and 7 (Starts 6:00)
Rachmaninov Preludes, op 32 nos 7, 10 and 12 (Starts 22:10)
Encore – Elgar Salut d'amour
We hope you enjoy this unique concert which Noriko recorded on her own piano at home just for us.
We are investing in these recordings as a means of continuing to support artists through these challenging financial times. If you wish to add your support please donate (say £5 per person viewing), via either of the donation buttons below – a new window will open.
PROGRAMME NOTES – © C.N. Lane and E.A. Keith
Sergei Rachmaninov and Edward Elgar: Music for piano
Despite his prolific output in other musical genres, the chief element in Rachmaninov's three most popular and well-known works – the Prelude in C sharp minor op 3 of 1892, the Concerto for Piano and Orchestra no. 2 in C minor op 18 (1901) and the Rhapsody on a Theme of Paganini op 43 (1934) – is the virtuoso writing for the piano. This is not surprising for the piano was Rachmaninov's instrument par excellence and works for piano solo and piano duet, together with piano transcriptions and chamber music with piano, form the major part of his oeuvre. His friend and critic Marietta Shaginian wrote in 1912, 'Rachmaninov was an important composer but … one of the greatest pianists… his playing was demon like' and it was chiefly as a great concert pianist that Rachmaninov found fame across Europe and in the USA where he finally settled after reluctantly fleeing from Russia in 1917. Louis Kentner said that Rachmaninov at the piano was 'an unforgettable experience for all who had the good fortune to hear him…', and fortunately we can gain some impression of his formidable technique from the recordings that he made regularly from the 1920s, now transcribed for modern reproduction.
It is fair to say that, by contrast with Rachmaninov, composing works for piano solo did not come naturally to Elgar, whose first and great love was the violin; the few piano works that we know of, Maysong (1901), Skizze (1903) and In Smyrna (1905), are rarely played today. Nevertheless, Elgar did write extensively and well for the piano when in combination with the voice and chamber ensembles and he was an inveterate arranger of his own music for piano solo. His orchestral suite ' Three Bavarian Dances' (1898), for example, itself an orchestral arrangement taken from the choral song cycle 'From the Bavarian Highlands' (1895-6), was also published in Elgar's own arrangements for piano solo and for violin and piano.
SERGEI RACHMANINOV (1873-1943)      (arr. Ogawa) Vocalise op  34, no. 14
Read More
Composed around 1915 and published in a set of fourteen songs with words by Pushkin, Polonsky and others, Vocalise is a song without words, or rather with one word – 'Ah.' When coloratura soprano Antonina Nezhdanova, a star of the Moscow Grand Opera and for whom it was written, complained that there was no text, the composer gallantly responded: 'What need is there of words, when you will be able to convey everything better and more expressively than anyone could with words by the glory of your voice and interpretation?' Vocalise has proved to be one of Rachmaninov's most popular compositions and has appeared in transcriptions for a huge variety of instruments (for example, even before the official premier for soprano, Serge Koussevitzky, the great conductor and double bass virtuoso had, with the composer's approval, played it in an instrumental arrangement for double bass and orchestra).  Vocalise is in a minor key and the opening phrase is a cleverly disguised take on the medieval Dies Irae plainchant which Rachmaninov was apt to quote almost obsessively. However, throughout its simple binary structure and short coda, the sheer beauty of the melody dispels any gloom.
Show Less
SERGEI RACHMANINOV – Preludes from op 23 (1903) and op. 32 (1910)
Read More
Op 23: no.1, F sharp minor — Largo; no. 4, D major — Andante cantabile;  no. 5, G minor — Alla marcia; no. 6, E flat major — Andante;  no. 7, C minor — Allegro.
Op 32: no.7, F major –– Moderato; no. 10, B minor — Lento; no. 12, G sharp minor – Allegro
Apart from some early forays into the genre, unpublished in his lifetime, the first of Rachmaninov's preludes for piano was the very popular C sharp minor, op 3 no. 2, written in 1892 as the second of the five pieces that comprise Morceaux de Fantasie.  When added to the ten Preludes op 23 and the thirteen Preludes op 32, this work became the first in his cycle of twenty-four preludes covering all the major and minor keys. Rachmaninov wrote the preludes in emulation of Chopin and the complete collection is in a direct line of descent from Chopin's twenty-four Preludes op 28 and their pairings of major and minor keys. Chopin's preludes themselves refer back to J. S. Bach's Forty-eight Preludes and Fugues (the Well-Tempered Clavier) of 1722, although, for Rachmaninov, Chopin rather than Bach always remained the ultimate point of reference. Chopin obviously inspired Rachmaninov's harmonic explorations and many aspects of his style which invariably looked back to nineteenth-century Romanticism and virtually ignored the changing musical aesthetic of the early twentieth century.
Rachmaninov knew the piano and its capabilities intimately and his compositions, including the preludes, make great technical and interpretative demands upon the performer. A familiar approach throughout the entire cycle of preludes is to open with a few notes or a short phrase and develop this simple idea through increasingly rich harmonies and exploration of remote keys, reaching a powerful climax which is then followed by a soft often wistful conclusion. A good example of this structural scheme is the B minor prelude, op 32 no. 10, said to have been Rachmaninov's favourite, which almost exactly follows this pattern: a deceptively simple opening (with a hint of Schubert), a development leading towards a tremendous climax with crashing chords followed by a virtuosic cadenza and, eventually a quiet, reflective ending.
Show Less
EDWARD ELGAR (1857-1934) – Salut d'Amour
Read More
Salut d'Amour, Elgar's first published work, has a strong Yorkshire connection. In 1882, when Elgar was still working in his father's music shop in Worcester and trying to establish himself on the local amateur music scene, he met Charles William Buck, five years his senior, a GP and keen 'cellist from Giggleswick. The two men would remain friends for the rest of their lives. Elgar loved the Dales. He and Buck visited Malham Tarn and the falls at Stainforth Foss and Scaleber and enjoyed a pint at the Naked Man in Settle (or the N-M-Hotel, as Elgar insisted on calling it). In 1932, when both men were nearing the end of their lives, Elgar recalled dining on grilled Ribble trout: 'nothing so good in eating or company has occurred to me since 1882 … I feel there is small chance of my travelling north again but I still hope for it.'
As Elgar set off for another holiday in Giggleswick in the summer of 1888, he was handed a poem, 'Love's Grace', written by Caroline Alice Roberts, one of his violin pupils, whom he had been courting for some months. He responded with a short piece of music, Liebesgrüss (Love's Greeting), the title a tribute to Alice's fluency in German. He gave it the punning dedication 'To Carice' (the name the couple would give their only child two years later). The gift obviously did the trick: shortly after, he was able to write: '22 September 1888. Engaged to dearest A.'
Elgar sold the rights of his new piece outright to Schott for 2 guineas. The publishers believed (rightly) that sales would improve by replacing the German title with French, so Liebesgrüss became Salut d'Amour. Elgar made three arrangements of the work in order to increase the prospects of performance – for solo piano, for violin and piano, and an orchestral arrangement. The gorgeous E major melody has remained popular ever since, particularly, as in Noriko Ogawa's performance, as an encore.
Show Less
NORIKO OGAWA – © S Warnes
Noriko Ogawa needs no introduction to Ilkley Concert Club members. She first performed at The King's Hall in 1989, returning in 1992 with duo partner Michael Collins and gave a second recital for us in 2012. She would have been playing with Peter Donohue and the percussionists, O Duo, for the final concert of our 75th season. That event is now being re-scheduled to the 2022/23 season. For this online recital, recorded especially for us, we will be treated to Noriko's characteristic 'sonorous breadth and unforced elegance' (Minnesota Star Tribune), and 'ravishingly poetic playing' (Daily Telegraph).
Read More
Noriko's story is a tale of two homelands. Born in Japan and living in England she gracefully sits aside two cultures. Beginning her piano lessons at the age of four and receiving her formal education in Tokyo, she went on to study at the Julliard School of Music in New York. It was her teacher, Bernard Kaplin, who encouraged her to enter the Leeds International Piano Competition in 1987. Noriko was awarded Third Prize and soon established herself as an artistic force to be reckoned with. She came to prominence after 'the Leeds' and has appeared with all the major European, Japanese and US orchestras. She made her BBC Proms debut in 2013 with the BBC Concert Orchestra and returned a year later with the Endymion Ensemble.
As a chamber musician, Noriko has collaborated with Steven Isserlis, Isabelle van Keulen, Martin Roscoe, Peter Donohoe and Kathryn Stott. Recording exclusively on BIS, her wide ranging discography includes the complete piano music of Debussy. Her recordings of Images Books I & II were chosen as the top recommendation for their 'exquisite delicacy' by Stephen Walsh on BBC Radio 3's CD Review.
An advocate of commissioning, Noriko has been involved in numerous premieres including works by Richard Dubugnon and Graham Fitkin. In 2015, as Associate Artist (alongside Peter Donohoe) for the Ravel and Rachmaninov Festival at Manchester's Bridgewater Hall, Noriko premiered Le Tombeau de Rachmaninov a collection of pieces by six composers, Stephen Hough, Alan Mills, Peter Fribbins, James Francis Brown, Cecilia McDowell and Takashi Yoshimatsu.
As a cultural ambassador for Japan Noriko has brought the music of her friend, the composer Takemitsu to a worldwide audience. Some of her newly commissioned pieces for the piano have been ground-breaking, such as those by Yoshiro Kanno. In his Particle of Light the piano is combined with the Nambu Bell, whereas metal chopsticks join the piano in A Particle of Water. Noriko's ability to capture an image or suggestion through her deftness and delicacy of touch is a trademark of her musical persona.
In Japan, Noriko acts as artistic advisor to the MUZA Kawasaki Symphony Hall. In 1999 the Japanese Ministry of Education awarded her their Art Prize in recognition of her outstanding contribution to music in Japan. Noriko's gifts are not confined to piano playing! She is a published author in Japan and her translation into Japanese of Susan Tomes' book, Out of Silence-a pianist's yearbook, has been reprinted by popular demand.
Noriko is sought after as a presenter on both radio and television. As such she has appeared as a piano expert on BBC3's coverage of the Leeds International Piano Competition and on BBC Worldwide Visionaries as an advocate of Takemitsu, as well as programmes for NHK and Nippon TV. As an adjudicator she is regularly on the judging panel of the BBC Young Musician of the Year Competition and the Munich, Honens and Scottish International Piano Competitions. In 2018 Noriko was appointed Chairperson of the Jury for Japan's prestigious 10th Hamamatsu International Piano Competition and the same year she was elected to the board of the World Federation of International Music Competitions. She is also a teacher and is a Fellow at the Guildhall School of Music and Drama and regularly teaches masterclasses at Tokyo College of Music and the Moscow Conservatoire.
Noriko is committed to charity work. Since the devastating 2011 earthquake she has raised over £40,000 for the British Red Cross in Japan Tsunami Fund. Noriko also founded Jamie's Concerts, a series for autistic children and parents. She is a Cultural Ambassador for the National Autistic Society.
Noriko lives in London with her partner Philip and cat, Sox. When not practising the piano she enjoys writing and cooking for friends.
Show Less
RECOMMENDED RECORDINGS – R Waud
Rachmaninov
A very fine recording of the complete preludes has recently appeared from a young player called Lukas Geniusas, and I can recommend it without reservation. It comes on the Piano Classics label at medium price (PCL 0078). A fine Rachmaninov player from the past, Peter Katin, is my second recommendation at medium price on SOMM 0110.
Finding recommendations for short, encore-like pieces is not easy as it entails buying a whole disc of possibly inappropriate companions, unless, of course, you download. In this case I am recommending a couple of discs containing the Vocalise and Salut d'amour.
A fairly recent, highly acclaimed recording by Daniil Trifonov on DGG 483 6617 (full price), contains the Vocalise together with marvellous performances of Rachmaninov's Piano Concertos Nos. 1 and 3, with the Philadelphia orchestra conducted by Yannick Nézet-Séguin.
Another outstanding CD is from Stephen Hough, called 'Stephen Hough's Dream Album', containing many short easy listening works often transcribed by Mr. Hough and including Salut d'amour. The disc is issued by Hyperion CDA68176 at full price, and receiving a Diaspason d'or in 2018.