REVIEWS
ASHLEY WASS & MARTIN ROSCOE – pianos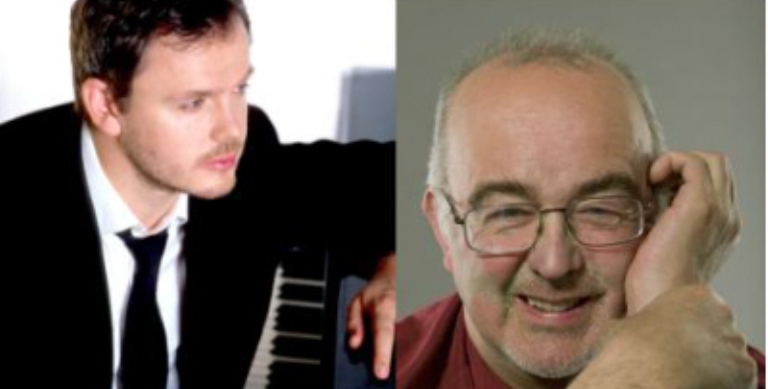 Wednesday 4th May 2011

Mozart – Sonata in D, K448
Schumann – Andante & Variations in B flat, Op.46
Schumann arr. Debussy – Six Studies in Canon form (1891)
Stravinsky – The Rite of Spring
It is a pleasure to welcome both artists back to Ilkley as a formidable duo. Ashley WASS played for us in 2006 and 2010, when we experienced his consummate musicianship. A regular visitor, Martin ROSCOE last played here in 2002. His enduring popularity and solid reputation are built on a deeply thoughtful musicianship, and an easy rapport with audiences and fellow musicians. This programme encompasses a range of styles that both performers will relish. Stravinsky composed his piano four-hands version of the Rite of Spring before finishing the orchestral score, and it will bring the season to a sensational conclusion
REVIEW BY GEOFFREY KINDER
A Superb End to the Ilkley Concert Club Season
Their programme began with the Mozart Sonata for Two Pianos. This is music in the composer's happiest vein, rejoicing in the opportunities offered for the interchange of ideas between the two players. Fortunately the instruments were nestled together, with the players facing each other so that we could enjoy the ping-pong games that Mozart plays with his material, so well captured in this performance. The limpid beauty of the slow movement was fully explored and the finale was full of deft energy. This was a joy throughout.
Read More
Then came two pieces by Schumann, both in a relatively domestic mood. This might in lesser hands have seemed too much of a good thing but these sensitive performances justified the programme choice. In the Andante and Variations the theme is played by the two pianos in turn and this allowed us to hear how well the piano technician, Ian Cunningham, had voiced the two Steinways. As so often in Schumann there is a reflective ending and this coda was beautifully played. It was followed by the Six Studies in Canon Form in Debussy's two-piano arrangement of the original pedal piano version. Their various moods were well caught with again a gentle epilogue helping them to cohere as a group.
The second half of the concert was devoted a different kind of arrangement altogether, Stravinsky's own four-hands at one piano version of his ballet The Rite of Spring. The performers played it on two pianos which allowed them to add details in the complex orchestral original that the logistical limitations of one keyboard would not permit. The playing of surely the most viscerally exciting work ever composed fully measured up to its demands. The impact was overwhelming, but beneath the super-charged adrenalin of the playing lay profound musicianship. It was greeted, deservedly, by stamping and cheering of a kind I've never before experienced in an Ilkley Concert Club event. To echo Stravinsky's comment on a Bernstein Mahler symphony performance: 'Wow!'
G.K.
Show Less
RECOMMENDED RECORDINGS BY RAYMOND WAUD
Mozart 
A splendid Sony CD at budget price (517490 2) has Murray Perahia and Radu Lulu performing this work and the Schubert Fantasia D.940 with two shorter pieces by Mozart. The recording quality is good.
Read More
Schumann 
There are two recommendable recordings of this work that include Martha Argerich. The first is a mid price EMI disc 557 308 2, recorded live in 1994, where Argerich is accompanied by Alexandre Rabinovitch. The couplings are other works by Schumann, including the Piano Quintet. The second has Argerich accompanied by Gabriela Montero on a 3 disc budget price set from EMI 5 18333 2, recorded live in 2007, and includes chamber, piano duet and 2 piano works by Bartók, Beethoven, Dohnányi, Glinka, Messiaen and Ravel. Both recordings are very satisfactory and audience noise is minimal.
Schumann / DEbussy
Recordings of this work are not numerous, but there is a very satisfactory 2 disc super-budget set on Apex 2564 69209-8 performed by Jean-François Heisser and Georges Pludermacher. The first disc has transcriptions of Debussy works for piano duet, and the second has transcriptions by Debussy for piano duet or 2 pianos.
Stravinsky 
A very fine recording has recently appeared on the Nimbus label NI 5866 (full price), coupled with piano duet versions of Debussy' La Mer and Ravel's Rapsodie Espagnole. The recording quality is excellent and the performances by Fiona and John York (York 2) are very good indeed. There is a good budget alternative on Naxos 8.553386, where the painists are Benjamin Frith and Peter Hill, and the couplings are Stravinsky's Concerto for 2 Pianos and Sonata for 2 Pianos.
Show Less