REVIEWS
ROBERT PLANE – Clarinet & DANTE QUARTET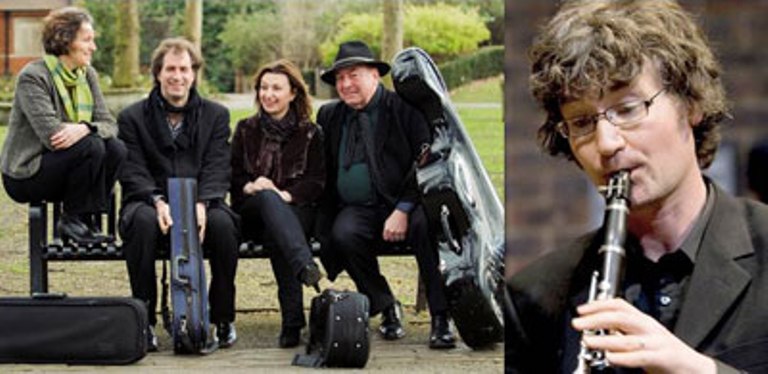 Wednesday 30th November 2011

Purcell – Chacony
Haydn – String Quartet in D Op. 64/5 [the Lark]
Stanford – Fantasy No. 1 in G Minor (Cl. & Quartet)
Brahms – Clarinet Quintet in B Minor Op.115
Robert Plane's career has encompassed solo, chamber and orchestral music. He is now holds the position of Principal Clarinet in the BBC National Orchestra of Wales. His recording of Messiaen's 'Quartet for the End of Time' was praised by BBC Music Magazine as the 'best modern account' of this monumental work. We heard the Dante Quartet at Ilkley in 2008 when they gave an excellent concert with oboe player George Caird. The Dante is one of the finest string quartets in Britain, renowned for its rich palette of tone colours and the emotional intensity of its performances.
REVIEW BY GEOFFREY KINDER
Superb Clarinet Playing at the Ilkley Concert Club
Theirs was an interesting programme featuring standard repertoire alongside rarities and beginning with one, Purcell's extraordinary Chacony for strings. They projected its often astringent harmonic clashes in a rhythmically vital performance.
Read More
The opening of the Haydn 'Lark' Quartet is one to look forward to keenly, but on this occasion, owing to undernourished violin tone and insecure intonation, the lark failed to take flight. Things looked up in the gentle slow movement and following lively minuet. Full amends were made in the moto perpetuo finale where Krysia Osostowicz played the non-stop rush of semiquavers with great élan.
Robert Plane then joined the quartet, talked to us engagingly about the piece he was to play and congratulated us on filling the hall (long may Ilkley's enthusiastic support for live classical music continue). Stanford's Fantasy no.1 for Clarinet and String Quartet gave him plenty of opportunity to display his very characterful playing in the more animated sections and mellifluous tone, especially in the middle slower movement. Not great music perhaps, but music that we were grateful to be given the rare chance to listen to.
Brahms' Clarinet Quintet is a 'late' work and can suffer from the reputation that this fact has bestowed on it. It is a cliché to talk of its 'autumnal glow' and its perceived air of regret and resignation. But if that is stressed in performance then what is in fact a fine and strong piece of chamber music can all too easily seem mawkish and self-pitying. Robert Plane and the Dantes steered well clear of that trap, whilst still plumbing the work's considerable depth and strength of feeling. The first movement had proper momentum and its contrasting elements were well projected. The slow movement is the heart of the piece, the opening was full of tenderness and the central gypsy music had true Magyar flavour. Cellist Bernard Gregor-Smith shone in the wistful scherzo and viola-player Rachel Roberts' was poignantly expressive in the last movement's final variation; altogether a richly satisfying performance.
G.K.
Show Less
RECOMMENDED RECORDINGS BY RAYMOND WAUD
PURCELL
Harmonia Mundi produce a budget CD of Purcell Chamber Music with London Baroque on HMA 1951327. The performances and recording are very good.
Read More
HAYDN
The Auryn Quartet on Tacet TACET 189 (2 CDs at budget price) give excellent performances of all 6 of the Op. 64 Quartets. A single budget disc of Op. 64, Nos.4-6, with the ever reliable Kodaly Quartet on Naxos 8.550674, provides a good alternative.
STANFORD
Tonight's soloist gives excellent performances of Stanford's Clarinet Sonata, Fantasy No.1 and Fantasy No.2, etc. on Naxos 8.570416 (budget price).
BRAHMS
Thea King with the Gabrieli Quartet gives a beautiful elegiac performance with excellent sound quality on Hyperion CDA 66107 (full price). The coupling is the Brahms Clarinet Trio. Brilliant Classics have licensed the Nimbus recordings of the Clarinet Quintet, Clarinet Trio and Clarinet Sonatas (93156 – 2 CDs at budget price). Karl Leister and the Brandis Quartet give smooth, romantic performances.
Show Less