REVIEWS
NORIKO OGAWA – piano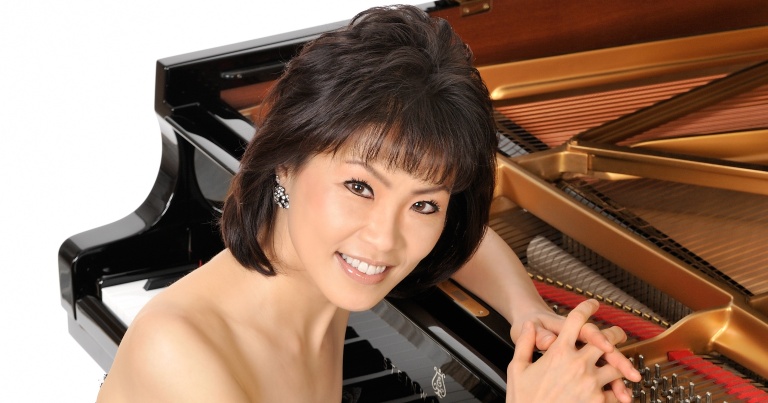 Wednesday 3rd October 2012

Mozart – Piano Sonata no. 12 in F K332
Takemitsu – Rain Tree Sketch II
Debussy – Images Book I
Mussorgsky – Pictures at an Exhibition
Norika Ogawa played at ICC in 1989 shortly after her 1987 success in the Leeds International Piano Competition. Since then she has played with all the major European, Japanese and US orchestras. With her wonderful dynamic range and colour palate, she is also renowned as a recitalist and chamber musician. Her recording of the complete solo piano works of her favourite composer Debussy met with critical acclaim. Book I of 'Images' comprises three contrasting impressionistic pieces. The 'Rain Tree Sketch II' written 'In Memoriam Olivier Messiaen' reflects the influence of that composer on Takemitsu. Beginning with the Mozart sonata, written at the height of his powers, the recital ends with Mussorgsky's monumental piano composition in a performance of the original autographed score.
REVIEW BY GEOFFREY KINDER
Vivid Pictures in the Mind
Noriko Ogawa's reputation has rested on her remarkable interpretations of Debussy's music, and this featured strongly in her well-planned recital. So it was fascinating to hear her in the Mozart Sonata K332, music that is in such a very different style.
Read More
There are basically two ways of playing classical keyboard music, either to be mindful of the limitations of the instruments it was written for, or to utilize the full potential of the modern grand piano. She chose the latter approach, for which I was grateful. This allowed her to display her limpid and varied touch and she was not afraid to use subtle rubato where appropriate. Her reading was expressive but not overly romanticized and the impetuous finale was played with élan, though clarity was sometimes compromised by over-use of the sustaining pedal.
The Debussy Images Book 1 was preceded by Takemitsu's Second Rain Sketch, music which is deeply indebted to Debussy as well as to Messaien its dedicatee. As in the Images that followed the playing was spellbindingly evocative, we were awash with colour. She has a wonderful ability to use dynamics to create a sense of foreground and background. In the succeeding Reflets dans l'Eau, music of almost Lisztian bravura but without his preposterous vulgarity, her wonderful control of keyboard texture was striking,
In Mussorgsky's Pictures at an Exhibition she brought out the character of each piece superbly with powerful attack for the Gnome, peasant strength in Bydlo the ox-cart, the virtuosic chattering of Limoges, a huge dynamic range in Catacombs, percussive attack emphasizing the discords in Baba-Yaga and the gloriously rich tonal palette for the Great Gate of Kiev.This work is more often heard in the Ravel orchestration and a performance of the piano original can sometimes seem to lack impact. Such was the power of her playing (and the quality of the hall's instrument) that we didn't miss a full symphony orchestra for a moment. As a bonne-bouche she gave us more delectable Debussy.
G.K.
Show Less
RECOMMENDED RECORDINGS BY RAYMOND WAUD
Mozart My favourite Mozart Piano Sonata cycles are by Walter Klien and Klara Würtz. Klein's K.332 is on a budget 2 disc set that includes the later Piano Sonatas (Vox CDX5046). The recordings are analogue but have been well transferred to CD, and the performances are wonderfully sensitive. Klara Würtz plays all the Mozart Sonatas on Brilliant Classics 94034, a 5 CD set which costs less than the price of one full price CD. The recording quality is excellent and the performances are beautifully balanced.
Read More
Takemitsu 
Ms Ogawa's disc of Takemitsu works can be regarded as authoritive and she is superbly recorded on BIS-CD-805 (full price).
DebussyThere are many excellent recordings of Debussy's Images and Ms Ogawa's version is among the best on BIS-CD-1205 (full price). Alternatively, she plays Debussy's complete Piano Works on BIS-CD-195556 (6 CDs for the price of 3). There is a wonderful budget priced performance on Vox CDX5103 (2 CDs) with Ivan Moravec, and the couplings are some marvellous perfomances of Chopin.
Mussorgsky Sviatoslav Richter was one of the greatest performers of this work and there is an early, but good, recording on Regis RRC 1373 (budget price). The couplings are Prokofiev's Piano Concerto No.1 and Piano Sonata No.7. A good modern recording alternative is given by Nikolai Demidenko on Hyperion Helios CDH55306 (budget price). The couplings are pieces from Prokofiev's "Romeo & Juliet" and the Toccata in D.
Raymond Waud.
Show Less