REVIEWS
MANCHESTER CHAMBER ENSEMBLE & CUILLIN SOUND – Conducted by Richard Howarth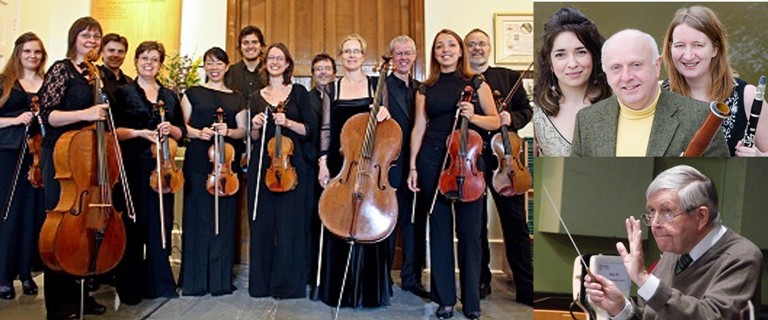 Wednesday 2nd October 2013
Celebrating David Pyett's 36 Seasons as Chairman of Ilkley Concert Club
Bach – Second Suite in B minor for Flute & Strings
Poulenc – Sonata for Clarinet and Bassoon
Britten – Simple Symphony for Strings
Arthur Butterworth – Tarka (World Premiere)
Grainger – Handel in the Strand
Copland – Appalachian Spring
This concert is the gift of the ICC Members

David Pyett has always wanted to programme Appalachian Spring at Ilkley Concert Club, but the cost of 13 players was high – now thanks to gifts from members it will happen. Following years of friendship, it seemed an appropriate tribute to ask Arthur Butterworth to compose a piece for the occasion. We will hear the World Premiere of Arthur's Tarka with its dedication "To David Pyett",
written for the same instruments as Appalachian Spring.

Following the Bach suite comes Poulenc, with David's own favourite instrument, the Clarinet. Next the youthful Britten Symphony with its Boisterous Bourrée, Playful Pizzicato, Simple Sarabande &
Frolicsome Finale, with Grainger to add to the Celebration.

And we are delighted to welcome some Manchester friends back to play at Ilkley.
REVIEW BY GEOFFREY KINDER
A Triumphant Evening for the Ilkley Concert Club
David joined the Concert Club on its formation sixty seven years ago, immediately became a committee member and for over half that time was its Chairman. His drive and enthusiasm have made the club probably the most successful of its kind in the country. This needed to be celebrated, and what a marvellous celebration it turned out to be. The joint forces of the Manchester Chamber Ensemble and Cuillin Sound played a richly varied programme with evident commitment and enjoyment.
Read More
Bach's 2nd Suite in B Minor received a lively performance, the spirit of the dance never far away. Flautist Amina Hussain made light of the difficulties inherent in her part – Bach is rarely on the side of those needing to breathe! Poulenc, whose Sonata for Clarinet and Bassoon followed certainly is, but there are plenty of other technical challenges which were adroitly met by Sarah Watts and Laurence Perkins. The string players then came to the fore in Britten's Simple Symphony. Among the many highlights were the rich and resonant Playful Pizzicato and the lyrical phrasing in the Sarabande.
Pianist Jonathan Scott had his solo spot in Grainger's Handel in the Strand, deftly played at breakneck speed. Copland's Appalachian Spring, a work that David had always wanted to programme but whose costs (many extra players and rehearsal time) had put it beyond the club's resources. He is held in such high regard that the additional funding was easily raised from members. It is a lovely score and the idiomatic performance under conductor Richard Howarth brought out both the sprightly and the tender aspects of the music.
The club had commissioned Arthur Butterworth to write a work for the same forces as Appalachian Spring and Tarka Op.142, was the successful result. Beautifully imagined for the whole ensemble this world premiere was warmly appreciated by the audience and a very satisfied composer who presented David with a signed copy of the score which is dedicated 'to David Pyett'. What a celebration!
G.K.
Show Less
RECOMMENDED RECORDINGS BY RAYMOND WAUD
Bach
There are many excellent recordings of this Suite, and one of my favourites is from Le Concert des Nations conducted by Jordi Savall on Alia Vox AVSA 9890A+B (2 SACDs at medium price, playable on all players). All 4 Suites are included and are enthusiastically performed in excellent sound. As a budget priced alternative there is a fine set of the Suites on 2 CDs from The Boston Early Music Orchestra conducted by Andrew Parrott on Virgin Veritas 50999 9125562.
Read More
Poulenc
A very fine recording of the complete Chamber Music with various artists has been issued on Champs Hill CHRCD 028 (2 CDs at budget price). The recording quality is excellent.
Britten
Britten's own incomparable performance is still only available at full price, coupled with the Young Person's Guide and Frank Bridge Variations on Decca 417 509-2. A good budget alternative is on Naxos 8.557205, where the Northern Sinfonia is conducted by Steuart Bedford. The couplings are A Charm of Lullabies, Lachrymae, and Suite of English Folk Tunes.
Butterworth
There are no recordings yet.
Grainger
A clear recommendation is possible here with a CD entitled "An Introduction to Percy Grainger", which contains an extensive collection, including tonight's piece. With the label's usual high standard of recording, this is on Chandos CHAN 2029 (budget price).
Copland
In the current absence of the composer's classic recording of the 13 instrument version, there is an excellent alternative with modern digital recording on SOMM CD 244 (full price). The Orchestra of the Swan is conducted by David Curtis, and the couplings are Clarinet Concertos by Copland and Finzi played by Sarah Williamson.
Raymond Waud.
Show Less