REVIEWS
ESCHER STRING QUARTET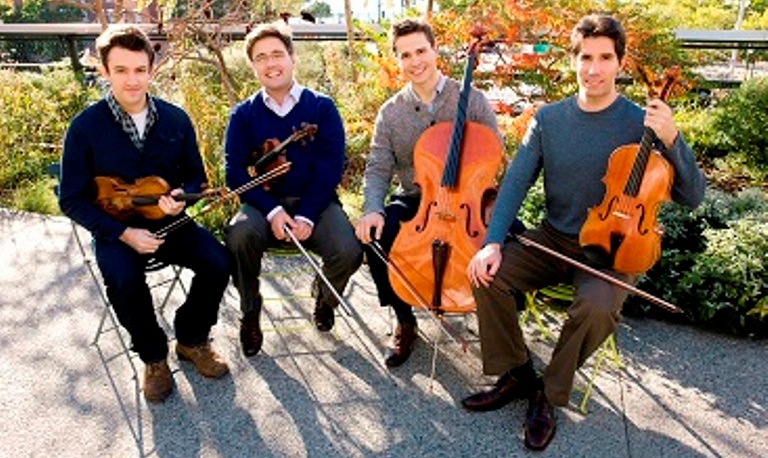 Wednesday 13th November 2013
Bridge – Phantasie Quartet in F minor
Britten – Quartet no. 3 op. 94
Elgar – Quartet in E minor op.83
Within months of its formation in 2005,the Escher Quartet was invited by both Pinchas Zukerman and Itzhak Perlman to be the quartet-in-residence at their summer festivals. Appointed BBC New Generation Artists in 2010-12, they continue to play at prestigious venues and festivals around the world.

The short Bridge Quartet, a single movement in three sections, starts with a vigorous march, followed by a lovely slow section, and a jolly finale. Britten's lastquartet (1975) was the composer's swansong. It ends with the famous Passacaglia finale – now to be viewed as a farewell to life. Elgar's quartet was written in the aftermath of WW1 along with the violin sonata, piano quintet and cello concerto. Nostalgia for times past and the horror of war pervade this quartet. The outer movements are restlessly beautiful and the central movement marked piacevole (pleasing) tells of innocent delights.
REVIEW BY GEOFFREY KINDER
Over Here and Overwhelming at the Ilkley Concert Club
We've experienced so many superb young chamber music groups in Ilkley, but the visit from this American quartet rated extra-special. They have total technical command that is allied to acutely sensitive musicianship; their response to the varying demands of their programme was intense and imaginative. And what a programme, nothing 'safe' in the all-English twentieth century music they chose to play. We live in a global world and it is no longer true (if ever it was) that only those from Albion can fully get under the skin of 'our' music.
Read More
They began with an ideal opener, the short Phantasy Quartet by Frank Bridge. This immediately revealed their strengths, the subtle use of a wide dynamic range, the empathetic internal balance and their decisive approach colourfully projecting every nuance of this characterful music.
In contrast to these relatively mellifluous sounds came three of Harrison Birtwistle's Nine Pieces for String Quartet. They had been carefully chosen to show their expressive range, from in-your-face aggression to remote uneasy calm. These qualities were fearlessly presented with superb control and commitment.
The Elgar Quartet is perhaps over-shadowed by his grander Piano Quintet but the Escher's eloquent performance did much to restore its true position in the hierarchy. This is sometimes wistful music that hints at greater profundity than its surface charm suggests and the players caught the duality with full understanding of its Elgarian spirit.
The evening's highlight was the Britten Third Quartet. The extraordinary febrile glow of the first movement was well caught and the two sardonic scherzos were colourfully despatched. Between them comes a slow movement that is dangerously 'simple' giving the players nowhere to hide. It was ravishingly done. In this Britten centenary year the last movement has special significance, written in the shadow of his impending death. This is music that I find almost unbearably moving, especially in a performance such as was given tonight and I know I was not the only audience member in tears by the end.
G.K.
Show Less
RECOMMENDED RECORDINGS BY RAYMOND WAUD
Bridge
This work does not seem to have been recorded very often, but the eminent Maggini Quartet have included it on a well-recorded disc with other short works by Frank Bridge. The Naxos CD is at upper-budget price with the number 8.553718.
The Maggini Quartet have also recorded the other works in tonight's concert, in excellent performances with good sound. The Britten is on Naxos 8.554360 coupled with the Simple Symphony, Quartettino and Alla Marcia, whilst the Elgar is on 8.553737 coupled with the composer's Piano Quintet with Peter Donohoe. Both discs are at upper-budget price.
Read More
Britten
An excellent alternative is provided by the Belcea Quartet on a budget-priced 2 disc set containing the 3 Quartets and 3 Divertimenti – Warner/EMI 2.28518 2. It is worth noting that the Takács Quartet have recorded all 3 Quartets on 1 full-price disc which will be available in November – Hyperion CDA68004.
Elgar
Another Hyperion full-price disc, CDA67857, has excellent performances of the String Quartet and Piano Quintet with the Goldner Quartet in very good sound. Piers Lane is the pianist in the Piano Quintet, and the disc was a "Gramophone" editor's choice.
Raymond Waud.
Show Less