REVIEWS
JACK LIEBECK – violin & SIMON CRAWFORD-PHILIPS – piano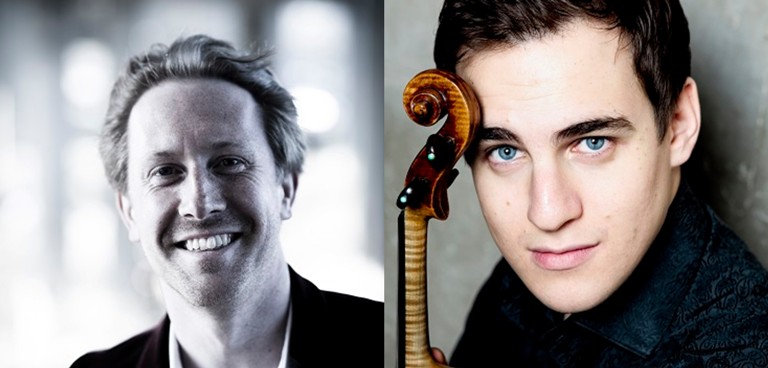 Wednesday 12th February 2014
Bach – Sonata no. 3 in E BWV 1016
Lekeu – Sonata in G (1892/93)
Beethoven – Sonata in A op. 47 "Kreutzer"
Jack Liebeck is established as one of the most compelling young violinists on the concert platform. He has appeared with many of the world's leading orchestras. Simon Crawford-Philips has developed a diverse career as soloist, song accompanist and chamber musician, notably with the Kungsbacka trio and the Piano Duo with Philip Moore.

Bach's E Major sonata has deservedly become one of the most popular of a set of six. We surely would have heard much more of Guillaume Lekeu had he not died at the age of 24. His passionate and beautiful Sonata occupies a similar sound world to that of his teacher César Franck. The "Kreutzer" sonata hardly needs introduction, except to note its extraordinary energy and the equality between the violin and piano parts.
REVIEW BY DAVID PYETT
Wonderful Duo makes up for ferocious weather
Ilkley Concert Club's recital in the King's Hall on Wednesday coincided with atrocious weather. For those who got to the concert, the outstanding Jack Liebeck (violin) and Simon Crawford-Phillips (piano) gave us a concert to remember. Their empathy with the very attentive audience was a tribute to the rapport between them.
Read More
Starting with the sonata by Guillaume Lekeu, a Belgian composer of whom we would surely know more, had he not died of typhoid at the age of only 24. Premiered in 1893 this late romantic music, chromatic and rhapsodic with rich and expressive ideas, was given an ideal performance. Without becoming over-indulgent, the players were able to take advantage of the rich harmonies and opportunities for their instruments for a convincing performance.
In an unusual order for the listener, the Bach duo sonata no 3 came next and the piano was mainly the 'accompaniment' to the florid virtuosic writing for the violin. Here Jack Liebeck took full advantage although keeping his dynamics and tone appropriate to a work written over 150 years earlier. Perhaps, at least for this work, the piano lid could well have been on 'half stick' bearing in mind its origin for a harpsichord. The playing of both musicians in the brilliant finale was beautifully executed and the audience responded with well merited applause.
Astonishingly it is nearly 50 years since the 'Kreutzer Sonata', Beethoven's most famous duo, was last played at Ilkley Concert Club. The Club had particularly requested that Jack Liebeck include it in the programme. The interplay of the two very equal parts was particularly well integrated, often with great sensitivity and delicacy; Simon Crawford-Phillips now taking proper advantage of the expressive qualities of the Steinway piano. Whilst it is difficult to highlight any part of this magnificent work, the final tarantella with the violin's dancing triplets will stay a long time in the memory. The audience's response included not only enthusiastic clapping but also much foot stamping. Once again Ilkley Concert Club's reputation for superb concerts was clearly in evidence.
David Pyett
Show Less
RECOMMENDED RECORDINGS BY RAYMOND WAUD
Bach
The set of six Sonatas for Violin and Klavier on "authentic" instruments is extremely well recorded in superb performances by Rachel Podger (violin) and Trevor Pinnock (harpsichord). The Channel Classics set of 2 CDs (CCS 14798) is at mid-price. For those who prefer the piano to the harpsichord, Frank Peter Zimmermann (violin) and Enrico Pace (piano) are on a 2 CD budget set from Sony 86971 12432. Performances and recording quality are extremely good.
Read More
Lekeu
Alina Ibragimova (violin) and Cédric Tiberghien (piano) play superbly and are realistically recorded on Hyperion CDA 67820 (full price). The disc is completed by Ravel's music for violin and piano. An interesting alternative has the young Yehudi and Hephzibah Menuhin playing their hearts out on Naxos 8.110989 (mid price), recorded in 1938. The couplings are Beethoven's Violin Sonata No.3 and the Cesar Franck Violin Sonata., and the transfers to CD are very good.
Beethoven
Ibragimova and Tiberghien again give a well recorded live performance on Wigmore Hall Live WHLive 0045 (medium price). The disc is completed by refreshingly vital performances of Beethoven's Violin Sonatas Nos.3 and 6. A complete set of the Violin Sonatas, beautifully played and superbly recorded, is given by Renaud Capuçon (violin) and Frank Braley (piano) on Virgin 50999 642001 01 (3 CDs for around the cost of one full price disc). This set is a superb bargain.
Raymond Waud.
Show Less