REVIEWS
LA SERENISSIMA – two violins, cello and harpsichord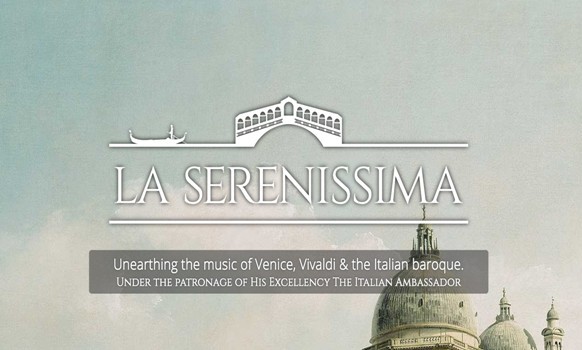 Wednesday 15th April 2015
Handel and the Italians
Handel – Sonata for 2 violins and continuo op. 2/5
Francesco Veracini – Sonata Scozzese in A op. 2/9
Arcangelo Corelli – Sonata for 2 violins and continuo in D op. 4/8
Handel – Sonata for violin and continuo in D op. 1/13
Antonio Caldera – Chiacona for 2 violins and continuo in B b op. 2/12
Giovanni Carbonelli – Sonata for violin and continuo in G
Arcangelo Corelli- Sonata for 2 violins and continuo in D op. 1/12
REVIEW BY GEOFFREY KINDER
An Evening of Baroque Delight at the Ilkley Concert Club
La Serenissima is a baroque specialists' collective that on this occasion sent us two violinists with cello and harpsichord continuo. Such groups go down well at early music events but do not always find favour with a more generalist audience of a concert club. It's all to do with presentation. The pieces played were cleverly chosen to give us variety of instrumentation from the full ensemble to a sonata by Handel just for violin and harpsichord. There was variety in the music selected with some welcome departures from standard baroque composers' practice, a Veracini sonata that ended with variations on a Scottish folk-song and an extended one-movement Chaconne by Caldara that acted as a foil to the succession of briefer movements in the rest of the programme.
Read More
The programme notes written by the group's leader Adrian Chandler were very informative. Supplemented by his spoken introductions before each concert item they brought the period and its composers vividly to life. He also proved to be a superb communicator with his violin, playing with real personality whilst staying true to baroque sensibilities.
His colleagues were equally adept as performers. Half the six items involved a second violin and Camilla Scarlett 's partnership with the leader was so secure that I felt it was a pity that she'd not had the chance to shine in one of the solo violin sonatas. Cellist Gareth Deats, a power-house of energy throughout was clearly having a wonderful time, as was Robert Howarth at the harpsichord. But especially when all four of them were playing I could barely hear his instrument, not his fault. Someone needs to invent a historically informed candle-powered amplifier. As a jazz-lover I wanted to hear his improvised responses to the bass-lines he'd been given.
'Not a note of Vivaldi' said Adrian at the start – how refreshing to be able to hear works by his contemporaries such as Carbonelli, whose music on the evidence of this concert is less formulaic. Thank you!
G.K.
Show Less
RECOMMENDED RECORDINGS BY RAYMOND WAUD
Due to the large number of items I am omitting comments for each recording. However, all the recommendations are excellent performances in good quality sound. Downloads are available.
Handel, Op.2, No.5
The Brook Street band play all the Op.2 works on Avie AV 2282 (full price).
Read More
Veracini
A recital entitled "London Calling" by Barokksolistene, including works by Veracini, Corelli, Geminiani and Handel is on the BIS label, BIS-SACD-1997 (SACD/CD at full price).
Corelli, Op.4, No.8
The Avison Ensemble play all the Op.2 and Op.4 works on Linn CKD 413 (2 SACD/CDs at medium price).
Handel, Op.1, No.13
This is included on a CD of Handel Violin Sonatas by Ensemble Vintage Köln on Naxos 8.572245 (medium price).
Caldara
Parnassi Musici play Trio Sonatas and Cello Sonatas by Caldara on CPO 999 871-2 (full price).
Carbonelli
Hélène Schmitt (violin) and others play Sonatas for Violin & Basso Continuo on Alpha 046 (full price).
Corelli, Op.1, No.12
Another excellent 2 disc set from The Avison Ensemble, who play Op.1 and Op.3 on Linn CDK 414 (2 SACD/CDs at medium price).
Raymond Waud.
Show Less