REVIEWS
PAUL NILON – tenor LOUISE WINTER – mezzo-soprano JONATHAN FISHER – piano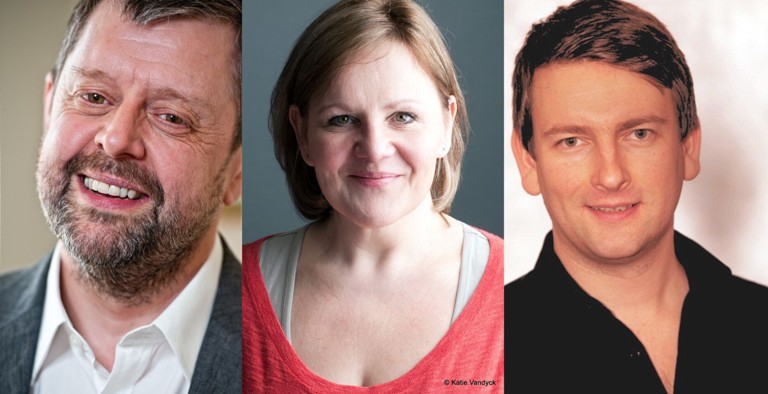 Wednesday 4th November 2015
Dvorak – Moravian duets, Op.20
Dvorak – Moravian duets, Op.32
Dvorak – Gypsy Songs, Op.55
Janacek – The wolf's trail
Janacek  – The diary of one who disappeared, works for cimbalom and choir
Keighley-born Paul Nilon, one of Europe's outstanding lyric tenors, has collaborated with Louise Winter, to create this programme of Czech vocal music. They are joined by students and an accompanist from the Royal Northern College of Music and cimbalom player Chris Bradley.

Dvořák wrote three sets of Moravian duets, the first for soprano and tenor (op. 20): five of the second set (op. 32) were arranged for female chorus. The Gypsy songs contain the famous Songs my mother taught me.

Janáček's The diary of one who disappeared is a song cycle for tenor, mezzo and female chorus, following the love of a Moravian boy for a Gypsy, full of sadness for all that is lost to gain personal freedom. The wolf's trail is a macabre little tale of a hunter who returns home to find that his prey is where he least expects it!
REVIEW BY GEOFFREY KINDER
A Wonderful and Very Different Kind of Folk Evening
This was a remarkable concert in many ways. The main item was Janacek's Diary of One who Disappeared which requires, as well as the lead tenor role and pianist, a mezzo soprano soloist and a small female chorus. There was also Eastern European folk music played on the Cimbalom. Indeed folk music was a thread that ran throughout the evening, both musically and textually. This was courageous programming on the part of the organizers, and their gamble paid off handsomely.
Read More
Cleverly the concert began with Janacek's The Wolf's Trail which introduced us to all the singers and their pianist. The members of the three-part chorus were remarkable in their blend and unanimity, surprisingly difficult when singing two-to-a-part. They had been well coached. They left the stage for four of Dvořák's Moravian Duets. Louise Winter and Paul Nilon clearly enjoyed this charming domestic music, and Jonathan Fisher made the most of the idiomatic dancing accompaniments
Louise took centre stage for Dvorak's Gypsy Songs. Here she used the full range of her rich mezzo voice to express the feeling of these very Slav outpourings. She caught their vivid emotional world powerfully. So far in the concert we'd heard the music in German translation but these she sang in the original Czech.
Chris Bradley is an experienced communicator and his expert cimbalom demonstration ended the first half. As a bonus he stayed on to give a much appreciated close encounter demonstration after the concert.
After the interval came Janacek's Diary sung in English. This requires a tireless tenor and a fearless pianist, which it received, not to mention the mezzo and chorus that sing in the central section. The two main protagonists acted out their roles superbly. Paul Nilon is known as a lyric tenor but this work requires so much more than that and he fully met its challenges. Singing with little respite throughout this mini-opera, he responded vividly to his character's conflicting emotions with unsparing vocal delivery, top C's and all!
G.K.
Show Less
RECOMMENDED RECORDINGS BY RAYMOND WAUD
Janácek-The Wolf's Trail
A budget Supraphon disc, SU 3295-2, has vocal works by Janácek including this piece. The Prague Philharmonic Choir and Czech Philharmonic Orchestra are conducted by Josef Veselka, and the recording quality is very satisfactory. Only synopses of the works are included.
Read More
Dvorák
A well-recorded medium price Supraphon CD contains Moravian Duets Op.20, 32 and 38. The Kuhn Mixed Chorus is accompanied by Stanislav Bogunja (piano), and the disc, 10 4093-2 is at medium price. An alternative, containing the Op.32 Moravian Duets, includes the Gypsy Songs, Op.55, and Biblical Songs, Op.99. Genia Kühmeier (soprano) and Bernarda Fink (mezzo), with Christoph Berner (piano), are on a full price Harmonia Mundi CD – HMC 902081. Texts and translations are included.
Janácek-Diary
An excellent full price Supraphon CD, SU 0022-2, has two versions of the work. A famous historical recording with Beno Blachut (tenor) and Stepanka Stepanova (contralto) is accompanied by a modern version with Nicolai Gedda (tenor) and Vera Soukupova (contralto). Both recordings are of good quality, and texts and translations are included.
Raymond Waud.
Show Less