REVIEWS
PASCAL and AMI ROGE – piano four hands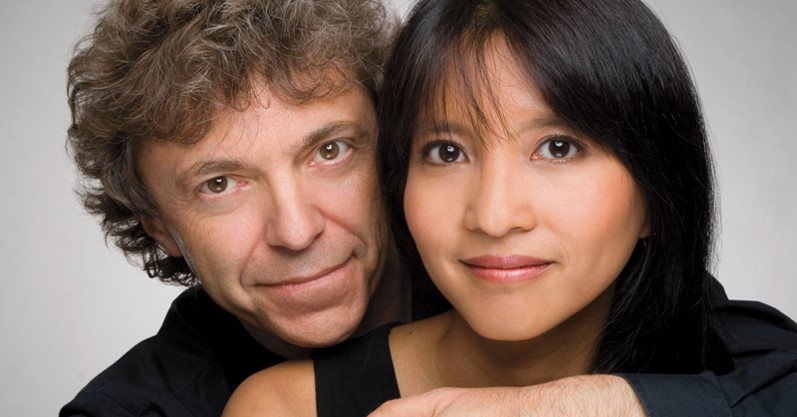 Wednesday 7th October 2015
Debussy – Petite Suite
Satie – Gnossiennes, Nos. 2 & 5
Satie – Embryons desseches
Chaminade – Pieces Romantiques, Op.55
Ravel – Sonatine
Ravel – Rapsodie espagnol
Poulenc – Sonate
Stravinsky – The Rite of Spring
Pascal Rogé is a master of understated Gallic eloquence, combining elegance, beauty and delicate phrasing. He and his Japanese born wife, Ami, give duet recitals world-wide, demonstrating their deep affinity with French music.

Pascal and Ami intersperse pieces for four hands with solos, all from Paris in the period of the Belle Époque. Cecile Chaminade was the leading female composer of the period: her Pièces romantiques for four hands are elegant and tuneful with hints of the exotic. More exotic are Satie's Embryons désséchés, miniatures attempting to evoke three marine invertebrates!

The recital ends with the brilliant duet version of Rite of Spring, once played by Stravinsky and Debussy. This ground-breaking work brought to an end the musical style of the Belle Époque as surely as did the national catastrophe of the First World War.
REVIEW BY GEOFFREY KINDER
A Franco-Russian Entente Cordiale
In the first half of their programme duettists Pascal and Ami played us French music with both of them at the one piano interleaved with solos by Pascal. It was the much the longer 'half' and it had too many sweetmeats; I'm no fan of 'Bake-off' so perhaps this is why it wasn't for me. The charming Debussy and Chaminade suites were beautifully played, but either of them rather than both would have been preferable. I just don't 'get' Satie, limp rather than limpid and with very heavy handed humour; but that's clearly my loss as the audience applauded Pascal's idiomatic playing warmly.
Read More
The compositional quality vastly improved with Pascal's other solo, Ravel's Sonatine, performed with the clarity and elegance that this little masterpiece requires. Ravel's duet version of his orchestral Rapsodie Espagnol certainly raised the musical temperature in the hall. Inevitably this version lacks some of the subtle the colour of the original, but with playing that was mysterious and seductive to begin with and astonishingly virtuosic in the concluding Feria, we missed little.
So far Pascal had played Primo in the duets so it was a welcome change to see the diminutive Ami taking his position for the cheekily brief Poulenc Duet Sonata which gave her the chance to show us both her elegance and her flamboyance.
The finale to the concert, and what a finale, was Stravinski's own arrangement of the Rite of Spring for piano duet. With its essentially percussive attack, piano sound emphasizes the often dissonant nature of the music in an even more aggressive way than an orchestra can. Pascal and Ami rightly did nothing to assuage the violence of this extraordinary score (written over a century ago!). From the magical opening to the pulverizing onslaught of the finale it was an remarkable performance. As critic I make written notes as I listen. Not on this case, open-jawed I was transfixed by the astonishing performance of this astonishing music which received a tumultuous ovation.
G.K.
Show Less
RECOMMENDED RECORDINGS BY RAYMOND WAUD
Debussy.
Tonight's artists feature on a well-recorded Onyx disc-ONYX 4047 (full price), which includes other French music for 2 pianists. An alternative on the upper budget price Naxos label-8.522979 has Jean-Pierre Armengaud and Olivier Chauzu playing Debussy's 4 hand piano music.
Read More
Satie.
A medium price disc has Pascal Rogé, in fine form, with an all Satie recital. The Decca CD-475 7527 has very good sound.
Chaminade.
I have been unable to find an available commercial recording of this piece.
Ravel-Sonatine.
The superb Czech pianist Ivan Moravec, who has just died, gives superb performances of this, Debussy's Pour le Piano with Preludes Books 1 & 2, and Cesar Franck's Prelude, Chorale & Fugue on Supraphon SU3584-2 (full price).
Ravel-Rapsodie Espagnole.
Pascal and Ami Rogé feature in a well-recorded Onyx CD-ONYX 4117 (full price). The couplings are Debussy's Prélude à l'Après-midi d'un faune, La Mer, Ravel's Ma Mere L'Oye and Saint-Saens's Scherzo. An alternative, on Nimbus NI5866 (full price) has the duo York2, and also includes La Mer and Stravinsky's Rite of Spring.
Poulenc.
Another Pascal & Ami Rogé disc, with other artists in a mixed bag of Poulenc Sonatas, is on Urlich UAV 5986. An alternative, with a similar programme, has Alexandre Tharaud and François Chaplin (pianists) on Naxos 8.553613 (upper budget price).
Stravinsky.
A husband and wife team, Mihu and Masumi Hio give a scintillating performance on Odradek ODRCD 301 (full price). A good alternative is mentioned above in "Ravel".
Raymond Waud.
Show Less