REVIEWS
LONDON HANDEL PLAYERS and ELIZABETH CRAGG soprano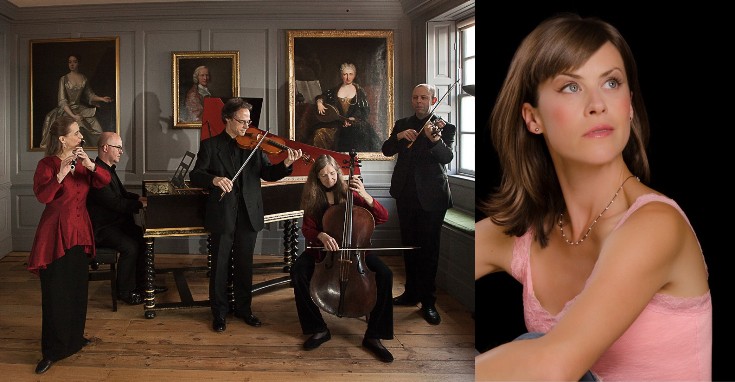 Wednesday 7th December 2016
Telemann      Paris Quartet no 3 in A major
Leclair            Violin Sonata no 8 in D major
Campra          Cantata: Arion
Bach                Aria: Bete aber auch dabei from Cantata BWV 115
Vivaldi            Recorder Sonata in G minor,
 /Chédeville  op 13 no 6 from Il Pastor Fido
Handel            German Arias: Süsser Blumen Ambraflocken HWV 204; Meine Seele hört im Sehen HWV 207
Regular appearances at Wigmore Hall and many of the leading festivals in the UK, Europe and North America have resulted in a large following for this excellent baroque chamber ensemble. With them comes Elizabeth Cragg who combines "utterly scintillating ... heavenly singing" with impeccable vocal technique and exceptional musicianship, reflected in the breadth and diversity of her repertoire. She studied at Royal Holloway College and at the Royal College of Music where she won a number of prizes..

The programme consists of early-eighteenth century music from both France and Germany. Much of it features the skill of Rachel Brown, whose flute and recorder playing has been compared to that of Orpheus. Leclair was the founder of the French violin school and Campra a leading opera composer between Lully and Rameau. Chédeville published a collection of his own music as Vivaldi's op 13!
REVIEW BY CHRIS SKIDMORE
Virtuosity and emotion at the Ilkley Concert Club
Virtuosity is the least we have come to expect from Britain's early music groups – and the London Handel Players certainly did not disappoint at this concert. But virtuosity is not enough to capture the range of emotions which baroque composers sought to evoke in their audiences. Here too we were well served as they moved us to both sadness and joy.
Read More
The subtitle was 'Beg, borrow or steal' and we started with one of Telemann's Paris quartets, pirated by a French publisher, causing Telemann to make a visit to Paris and write a further set of quartets! In general the balance between the instruments was excellent throughout but I felt that here Rachel Brown's flute was a little overshadowed by Adrian Butterfield's violin. He then performed with great panache a lively sonata by the French virtuoso, LeClair, with an independent part for the violoncello piccolo of Katherine Sharman. Then Elizabeth Cragg (soprano) joined the group for a cantata by André Campra. This highly ornamented French vocal music is a taste I am still acquiring but one could not help but admire the skill with which the voice and flute matched each other perfectly as they interwove their lines in what was effectively a duet.
Elizabeth Cragg's singing of Bach's tender prayer for forgiveness – Bete aber ich dabei – was a wonderfully moving start to the second half. Then Rachel Brown took up the treble recorder, the mouthpiece of which had been kept warm within her dress, to play a Vivaldian sonata now known to be by Nicholas Chédeville. She left us in no doubt that she is a skilled player of this instrument too, fully in control of both a fluid legato and a breath-takingly agility. Two further arias by Handel concluded the programme before a Handel encore – 'As steals the morn' from Il moderato – delighted the King's Hall audience, revealing the versatile Lawrence Cummings (harpsichord) as having a pleasing tenor voice!
CJS
Show Less
RECOMMENDED RECORDINGS BY RAYMOND WAUD
Telemann
My preferred version is on Brilliant Classics 93649 (3 CDs for the cost of 1 full price), and includes all 6 Paris Quartets plus 6 Paris New Quartets, performed by Jed Wentz (flute) and Musica ad Rhenum.
Read More
Leclair
A medium price Naxos disc (8.572866) includes Violin Sonatas Nos. 1-5 and No.8 from Book 2. Adrian Butterfield (violin), Jonathon Manson (viola da gamba) and Laurence Cummings (harpsichord) are the performers.
Campra
Les Arts Florissants conducted by William Christie are the superb artists on a budget price Harmonia Mundi CD (HMA 1951238), which contains 4 Cantatas, including "Arion".
Bach Cantatas
Nos. BWV 49, 115 and 180 are included on a very fine Naïve medium price disc (NC 40031). The soloists include Barbara Schlick (soprano), with the Concerto Vocale Leipzig and Ensemble Baroque de Limoges conducted by Christopher Coin.
Vivaldi/Chédeville
The Collegium Pro Musica, an Italian group, are the accomplished performers in all 6 Op.13 Sonatas on a super budget Brilliant Classics CD (95077). The recording quality is excellent.
Handel
Probably the best way to buy these German Arias is via the Erato 5 CD box (0825646112265), which is available for less than the price of 1 full price CD. Emma Kirkby (soprano) is the featured artist in the set, and the other 4 discs include Dowland, De Wert Madrigals, "A Vauxhall Gardens Entertainment" and songs by Robert Jones. This set really is a superb bargain.
Raymond Waud
Show Less