REVIEWS
ALINA IBRAGIMOVA violin CEDRIC TIBERGHIEN piano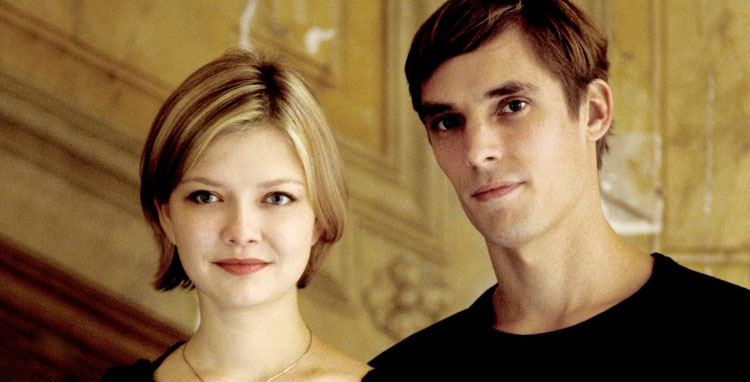 Wednesday 11 April 2018 8pm
Brahms Violin Sonata no. 1 in G major, op 78
Brahms Violin Sonata no. 2 in A major, op 100
Brahms Violin Sonata no. 3 in D minor, op 108
Alina Ibragimova is undoubtedly one of the most accomplished and intriguing violinists of her generation. This was illustrated in her prominent position at the 2015 BBC Proms with a baroque ensemble, and two solo late night recitals featuring the complete Bach Partitas and Sonatas, which commanded capacity audiences. Her long-standing partnership with Cédric Tiberghien has featured a highly successful complete cycle of Beethoven and Mozart Violin Sonatas at the Wigmore Hall in London. As well as being a dedicated chamber musician, Cédric's career has taken him to all five continents as a concerto soloist and recitalist. His most recent and critically acclaimed CD is the first of three of Bartok's solo piano music.

Brahms Violin Sonatas were written over a period of ten years with the playing of his lifelong friend Joseph Joachim very much in mind. Although the piano and violin are equal partners the main aim is to allow the violin to sing. In the first two sonatas, Brahms incorporates melodies from his songs: the third is a more stormy affair and the only one in four movements. Together they provide a veritable feast of romantic lyricism.
Alina Ibragimova and Cédric Tiberghien have become today's partnership of choice for violin and piano repertory
The Guardian
What you noticed first here was a bowling technique that approached the supernatural in its expressive variety. A model partner, Mr.Tiberghien provided muted shadings and prickly outbursts ideally matched to Ms.Ibragimova's manner.
New York Times
REVIEW BY Chris Skidmore
An incomparable performance at the Ilkley Concert Club
Alina Ibragimova and Cédric Tiberghien have an international reputation as one of the best violin and piano duos in the world. Their concert at the King's Hall was simply a wonderful demonstration of how two players – each virtuosi on their own instrument – can come together in a musical partnership. Before playing all three of Brahms' violin sonatas they chose to play the three short Romances which Clara Schumann wrote for herself and Joachim to play and which, they admitted, they had only just learnt!
Read More
Immediately it was clear that Concert Club members were in for a real treat. Ibragimova's playing was supple with lusciously dark low notes and the lightest of trills in the bird-like passages of the second Romance: Tiberghien a supreme accompanist, never intrusive unless the piano line needed to be heard and with beautifully precise articulation.
With the Brahms sonatas we entered into darker territory but still retaining the lightness and brightness of the Schumann. Ibragimova was true to Brahms' markings at the beginning of the first sonata – a true piano, rarely heard, but wonderfully right.  There was exciting bravura playing too, with the octaves, so typical of the composer, ringing out as they should. All her playing is deeply felt with nothing done simply for effect but always part of the musical argument.  She seems the leader in the partnership but Tiberghien is vital to its success. He drew both mysterious dark sonorities and feather-light high notes from the piano. Always one felt that one was eavesdropping on private music-making of the highest order.
The very different characters of the three sonatas were well distinguished. The lively dance music and the song-like qualities were brought to the fore in the second sonata. The playful fragmentation of the scherzo and the stormy mood of the finale of the third were equally memorable.  The packed hall responded with long and sustained applause at the end, well satisfied, for we had had our encore at the beginning!
Show Less
RECOMMENDED RECORDINGS BY Raymond Waud
There are so many highly recommendable recordings of Brahms's Violin Sonatas that choice is difficult. Here are three of my favourites in different price ranges.
First, a new recording from Chandos, at full price (CHAN 10977), with Tasmin Little (violin) and Piers Lane (piano). These are keenly felt readings with excellent sound.
Next, down at super-budget price, on Brilliant Classics 94824, the young Hungarian violinist Kristóf Baráti is partnered by the experienced pianist Klara Würst, and they repeat their success that they had with the complete Beethoven Violin Sonatas. The sound quality is very good.
Finally, my favourite, and a classic recording, by Josef Suk (violin) with Julius Katchen (piano) on Decca 466 393-2 (medium price). Everything about this recording seems to me to be right, and the performances are enhanced by Suk's lovely violin tone. The sound quality is very natural in this latest re-mastering.