REVIEWS
TRIO APACHES piano trio O DUO percussion (plus one)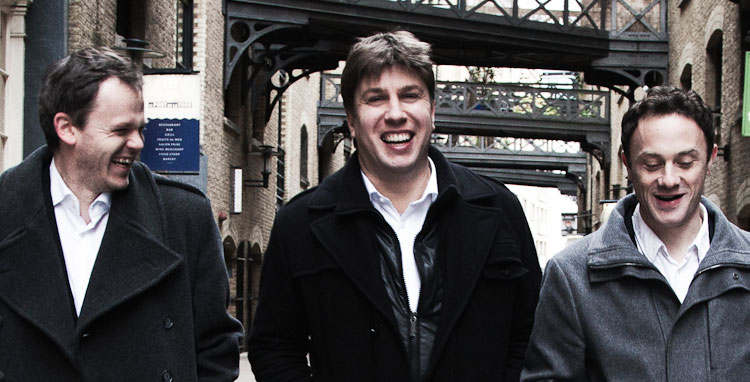 Wednesday 2 May 2018 8pm
Rachmaninov Trio élégiaque no. 1 in G minor
O Duo Bongo fury
Granados Spanish Dance no. 5 Andaluza (arr. O Duo)
Glass Mad Rush (arr. O Duo)
Shostakovich Symphony no.15 in A major, op 141
(arr. Derevianko)
Trio Apaches who are well known to Ilkley audiences, return with percussion group O Duo with a very unusual programme. Formed in 2012 by violinist Matthew Trusler, cellist Thomas Carroll and pianist Ashley Wass, they chose the name Apaches, which translates as 'hooligans', after the Parisian group which included Ravel, Stravinsky and de Falla. Trio Apaches have been unanimously praised for their infectious joy and their innovative programmes alike. This collaboration with percussionists Oliver Cox and Owen Gunnell (O Duo) is just one striking example.

Rachmaninov's early Trio élégiaque is a single movement work in which the elegiac theme is heard first in the piano and exchanged amongst the instruments to return eventually as a funeral march. O Duo entertain us with elements from their repertoire – Bongo fury was the sell-out Edinburgh Festival show which first brought them to prominence – before joining the Apaches in the transcription of Shostakovich's percussion saturated 15th Symphony. Look out for the prominent quotations from Rossini, Wagner and others!
O Duo: Phenomenal artistry... Brimming with style and panache.
Telegraph
Trio Apaches: Their performance ... was a joy to behold and the audience was left breathless and wanting more.
Keswick Reminder
Shostakovich's Second Trio, surely a masterpiece, received a superb performance [by the Apaches]
Geoffrey Kinder, Ilkley Gazette
REVIEW BY Chris Skidmore
Russian melancholy with a percussive twist at the Ilkley Concert Club
 This final concert of the 72nd season at Ilkley Concert Club found a packed Kings Hall full of anticipation and not a little trepidation!  Trio Apaches, making a welcome return, added three percussionists (O Duo and Jonny Draper) to play a wide-ranging programme of music from the present century and the last.
Read More
The concert began with Rachmaninov's early Trio élégiaque no 1, given a hauntingly beautiful performance by Trio Apaches. Although the thematic material of this one-movement work is shared between the players it is clear where the composer's sympathies lay.  Necessarily prominent was Ashley Wass, who played the virtuoso piano part with suitable panache but admirable restraint; Thomas Carroll (cello) and Matthew Trusler (violin), both mellow-toned, provided excellent support.
O Duo (Oliver Cox and Owen Gunnell) followed with a show-stopping performance of their own 'Bongo Fury', a feast of rhythmic complexity in which the bongos and almost anything in range that can be struck are combined in a joyous celebration of percussion. The audience, now thoroughly won over, enjoyed the contrast of two arranged pieces for tuned percussion – marimba and vibraphone – a Spanish dance by Granados and then 'Mad Rush', an organ piece by Philip Glass.  It is difficult to imagine this being as sensitively played as it was here, the rippling ostinato figures on the marimba contrasting with the more penetrating sound of the vibraphone.
The high point of the concert was the performance of the trio and percussion arrangement of Shostakovich's final symphony. This enigmatic piece, which begins and ends with solo glockenspiel, contains many percussive effects which reward the attention of the audience. The paring down of the instrumentation reveals the musical structure in all its complexity. Particularly effective were the moto perpetuo first movement, dominated by the rhythm of the 'Lone Ranger' theme from the William Tell overture, and the elegiac second movement with its meandering solo lines and chorale-like dead march. It was in the final movement that the absence of brass and wind was really felt, nevertheless the performance remained a tour de force and brought the season to a fitting climax.
Show Less
RECOMMENDED RECORDINGS BY Raymond Waud
Rachmaninov
The Trio Testore on Audite 92691 (SACD/CD full price) supplement the First Trio with Tchaikovsky's Piano Trio on a well recorded disc. As a medium price alternative Naxos 8.557423, with Russian artists, include both Rachmaninov's Trios.
O Duo
There is a good sample of the group's work, with 10 items including Glass's "Mad Rush", available on Champs Hill CHRCD 083 (full price), with excellent sound.
Shostakovich
There is little choice for this arrangement of the 15th. Symphony, but Trio Opus 8 and percussion make a good case for it on Profil PH 08014 (medium price). Shostakovich's two Piano Trios complete the CD.