REVIEWS
LEON McCAWLEY piano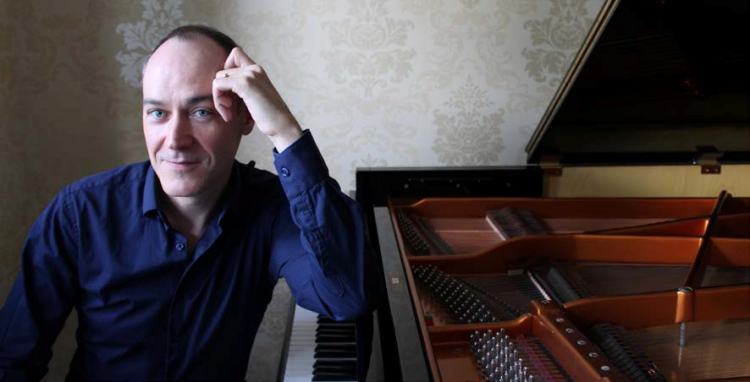 Wednesday 4 December 2019 at 8pm
Haydn                      Sonata in G major, Hob XVI:40
Schubert                 Sonata in C minor, D958
Schumann              'Abegg' variations, op 1
Gál                             nos. 5 & 6 of 24 Fugues, op 108
Brahms                   Vier Klavierstücke, op 119
Chopin                     Polonaise-Fantaisie in A flat major, op 61
The owner of 'a disarmingly profound and mercurial virtuosity', Leon McCawley 'seduces the listener by a spontaneous performance devoid of any sense of narcissism'. In 1993 Leon won first prize in the International Beethoven Piano Competition in Vienna and second prize at the Leeds International Piano Competition. After an absence of several years, during which he has continued to forge a highly successful career establishing himself as a pianist of great integrity and variety, Leon makes a long-awaited return to Ilkley.

He brings a programme which includes sonatas from the classical and romantic period alongside Schumann's mercurial op 1 variations on the name of his imaginary friend, Meta Abegg, and his real friend, Brahms's last piano works. The twentieth century is represented by two of Edinburgh-based Hans Gál's piano fugues. We end with Chopin's majestic Polonaise-Fantaisie.

"We have perhaps more media-glittering pianists, but none can surpass McCawley in his thoughtfulness of approach … spreading a rapt stillness which lasted long after its conclusion." BIRMINGHAM POST
REVIEW BY David halpin
Leon McCawley first came to national prominence in the UK in 1990 when, aged sixteen, he won the Piano Section of the BBC Musician of the Year competition. Three years later he came first in the International Beethoven Piano Competition in Vienna. Soon after he was awarded the runner-up's prize at the Leeds.
The programme of works McCawley played in Ilkley earlier this week allowed him brilliantly to showcase further his considerable virtuosic talents. Three longish compositions – a late  sonata by Schubert (his D958), Chopin's Polonaise-Fantaisie and Brahms' Four Klavierstücke – made up its core, with a set of shorter ones – two late fugues by Hans Gál, Schumann's Abegg Variations and Haydn's sonata No.54 – illuminating the periphery. As programmes go, McCawley's was very varied, taking in piano music by masters of the instrument spanning two centuries.
Read More
He began in the 18th century with the ever-popular Haydn, which has to be executed with the greatest possible precision for it to work its brief magic on audiences. McCawley did not disappoint, playing its second movement with sparkling crispness, bringing out fully its pianistic witticisms.
He took us next to the 19th century, to hear one of Schubert's most troubling sonatas, which he executed with enormous thoughtfulness, especially its beauteous slow movement. The work's manic finale was also confidently navigated.
McCawley's quick fingers were again evident in Schumann's near contemporaneous and youthful set of charming variations, which he complemented with a thoughtfully restrained rendering of Gál's two brief 20th century pieces.
Then, back to the 19th century for, first, Brahms and, to conclude, Chopin. The former's set of character pieces, which are, by turn, melancholic, poetic, skittish, humorous and dramatic, was played by McCawley with impressive attention to detail. The latter's very tricky improvisatory rhythms were performed with passionate conviction and mercurial virtuosity.
For an encore, McCawley flawlessly played Schumann's dreamy Des Abends from the composer's Fantasiestücke.  McCawley smiled often as he played; his audience justifiably did too.
Show Less
DAVID HALPIN
RECOMMENDED RECORDINGS BY Raymond Waud
Haydn 
Leon McCawley has embarked on a cycle of the Haydn Sonatas, and the first 2 volumes are excellent. Tonight's work is featured on SOMM0602 at full price, and 5 other Haydn Sonatas complete the disc.
Schubert 
Alfred Brendel is at his best in these 1970s recordings of the last three Schubert Sonatas, including D.958, and 3 Klavierstücke, D.946.The 2 disc set, Decca 438 7032, is at medium price.
Schumann 
A fairly new CD from Imogen Cooper has had excellent reviews, and also includes 2 Novelleten, Davidsbündlertänze, and Variations on an Original Theme, from Chandos 10874 (full price),A good medium price alternative comes from Idil Biret on Naxos 8.571251, coupled with Piano Sonata No.2, Fantasie in C & Toccata in C.
Gál 
Mr. McCawley has very successfully recorded all Gál's Piano Works on a 3 Avie CD set (AV 2064) at medium price.
Brahms 
Murray Perahia plays these pieces superbly on Sony 88697727252 with the Handel Variations and 6 Klavierstücke op.118. The disc is at full price, but has a very long duration.
Chopin 
7 Polonaises are conveniently included on DGG 457 7112 (medium price). I am not always enthusiastic about Pollini's Chopin playing, but these performances are splendid.
Raymond Waud