REVIEWS
FLEUR BARRON mezzo-soprano JULIUS DRAKE piano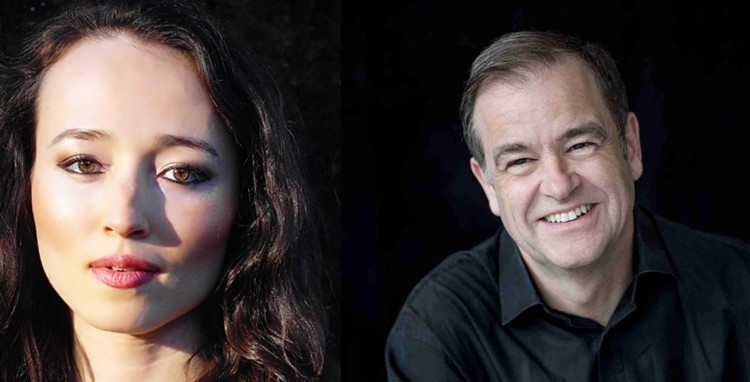 Wednesday 13 December 2017 8pm
Brahms – 8 Songs
Schumann – 8 Songs
Ives – 5 Songs
Debussy – Chansons de Bilitis
De Falla – Siete Canciones Populares
We regret that Christianne Stotijn has been forced to withdraw from this concert due to illness. On the recommendation of Julius Drake we are delighted that she has been replaced by the mezzo-soprano Fleur Barron, at such short notice. Julius Drake, whose reputation as one of the finest instrumentalists in his field, has found him collaborating with many of the world's leading artists, both in recital and on disc.
Fleur Barron - a charismatic star
Boston Globe
Julius Drake is one of Britain's most sought-after pianists for chamber music and Lieder
BBC Music Magazine
REVIEW BY Chris Skidmore
Last minute substitute excels at the Ilkley Concert Club
When Christianne Stotijn cancelled because of illness at five days notice, Ilkley Concert Club were very lucky to obtain, through Julius Drake's contacts, the services of Fleur Barron for last Wednesday's recital. Although the programme was inevitably much altered, Concert Club members were treated to a feast of song.
Read More
Fleur Barron is a remarkable singing actress with a beautiful mezzo-soprano voice, light and not too reverberant at the top of the range but with that ample darkness and warmth at the bottom that marks out a fine mezzo. She excelled in the more dramatic songs – like the Vergebliches Ständchen (Futile serenade) of Brahms and Die Kartenlegerin (The fortune teller) of Schumann where she could act out the story to perfection.
The first half of the programme consisted of eight songs each from Brahms and Schumann, providing contrasting reflections on love and life. Excellent accompanist that he is, Julius Drake found it hard in the heavy piano parts of the Brahms not to overpower the singer from time to time. The partnership between pianist and voice was more successful in the Schumann, where both the dark drama of Der Soldat (The soldier) and the rolling accompaniment of the carriage in Mein Wagen rollet Langsam (My carriage travels slowly) were carried off excellently.
The second half consisted of songs by Charles Ives, Claude Debussy and Manuel de Falla from the early years of the twentieth century. Ives can sometimes be a difficult composer to love but the performances of Memories and At the river delighted the Ilkley audience. Next we heard a performance of Debussy's Chansons de Bilitis which brought out the darker side of Fleur Barron's voice admirably. Manuel de Falla's Seven Spanish Folksongs rounded off the evening in fine style with thrilling playing from Julius Drake and agile and attractive singing from Fleur Barron.
Chris Skidmore
Show Less
RECOMMENDED RECORDINGS BY
Apologies, but we do not have our usual list of Recommended Recordings for the revised concert programme.